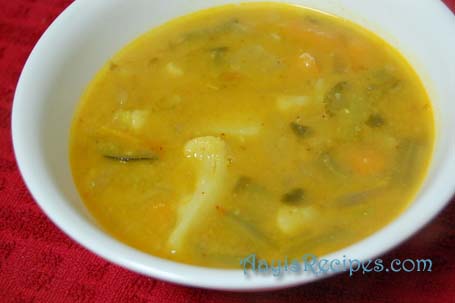 Most of us Indians have one or the other kind of favorite sambar which we like to go back again and again. I have an undying love for any type of sambar. So I feel I can never have enough recipes for this dish. Just change the spices and vegetables used and you get a whole new comforting meal.
I have some categories of sambar.
– Our favorite Konkani sambar(Kolmbo) that goes well with rice. Whenever I make this, I make it in huge quantities and go on for about 2 days. It helps a lot when I am really tired after a busy day.
– Rajma sambar is what I make when I want to leave out vegetables and use some red kidney beans(rajma).
– When I am making for idlis, I prefer this no-coconut version with home made sambar powder.
One day when I asked my routine question – "what do you want for dinner?" to V, he said he wants a new kind of sambar. I went through many recipes and finally zeroed on this version in my collection of Kannada magazines. It became an instant hit. My usual sambars are hot, but this one had a hot, sweet and tangy taste. We absolutely loved this dish. It is making a regular appearance on our table these days. This goes well with rice, idlis or dosas.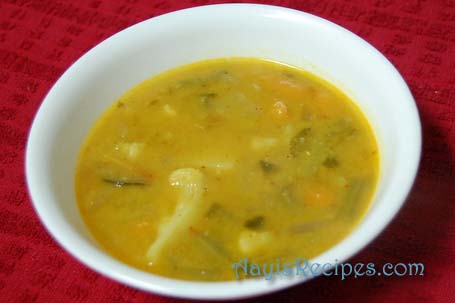 Ingredients:
2 cups vegetables – like green beans, cauliflower, carrots, eggplant, drumstick, potato, ivy gourd(tendli) etc
2/3rd cup toor dal
1/4 tea spn fenugreek seeds
1 tea spn urad dal
1 tea spn coriander seeds
2 tbl spn coconut
A pinch asafoetida
4-5 curry leaves
Oil
1/2 tea spn mustard seeds
1/2 cup tomato
1/2 cup onion
1/4 tea spn tamarind
1 tea spn jaggery
3-4 red chilies
3-4 strands coriander leaves
A pinch turmeric
Salt
Method:
Heat oil and fry fenugreek seeds, urad dal, coriander seeds, red chilies, coconut. Grind to a smooth paste.
Cook toor dal with turmeric and vegetables (keep dal in lower container and veggies on topmost one).
Heat oil and fry onion. When they are translucent, add mustard seeds, curry leaves, asafoetida. Fry for sometime and add tomato, one cup water, close and cook. When tomato is cooked, add cooked dal, tamarind and salt. Cook for 2-3 mins.
Add the ground paste, vegetables, jaggery and cook for about 7-8mins. Garnish with coriander leaves. Serve hot with rice.
Serves : 4-5
Preparation time : 30mins