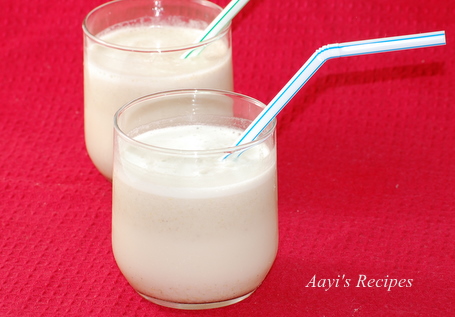 We are having a very hot summer here these days. We moved to a new apartment last week and it was extremely difficult under hot sun. All that we craved for was some cool drink which would cool down our bodies. I am not a great fan of any kind of sodas and I get bored of store bought juices very soon. I made a couple of cool drinks which I am going to post here in next few days.
I have heard so much about this drink Thandai – a cold drink made of dried nuts and some spices. This recipe was sent to me by Gowri last year. This drink also has poppy seeds which are supposed to have cooling effects on the body. The fennel seeds(saunf/badishepi) give a great flavor. I instantly became a fan of this drink. I have seen different versions of this recipe, but I really liked this version, so I am going to stick to it. Thanks a lot Gowri.
Ingredients:
15 almonds
1 tea spn peppercorns
1 tbl spn dry grapes(raisins)
2 dates (wet)
1 tea spn fennel seeds (saunf/badishepi)
2 tea spn poppy seeds
2 cardamom with pods
Sugar
Milk
Method:
Soak dates, almonds, peppercorns, raisins, fennel seeds, poppy seeds, cardamom overnight in the water(I just soak them for 2-3 hours). Next day grind to a very smooth paste. Add sugar (as per your taste) and Milk to bring it to required consistency. Strain. Serve chilled.
Serves : 2-3
Preparation time : 15mins