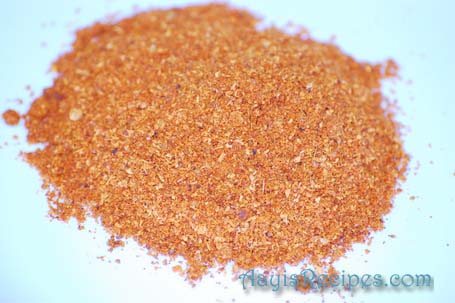 One of the most requested recipes on this blog is this Marathi special, very fragrant dry masala. I was waiting for a trip to India to get this recipe from my pachi (aayi's sister) who is my very important connection to anything Marathi :).
I still remember those days in Belgaum. I was in college hostel while doing my bachelors. The food in the canteen was so bad that after a while we could not take it any more. My roommate and I had always eaten homemade Konkani food and this hostel food was a big shock to us. She knew little bit of cooking which was mainly Konkani – with ground coconut masalas. We were not allowed to go and meet our relatives every week (otherwise I would have probably visited pachi every weekend). So we were in for a big trouble.
One day, I went to pachi's house and asked her for some simple recipes that I could cook in the hostel on a typical small one burner electric stove and without the help of any other electrical appliances like mixer, blender. Keeping in mind I didn't even know to make simple rice, she gave me few suggestions. She gave me some kala masala and gave some simple ideas of using this masala. Also some other masalas which I have forgotten now. But I still remember the heavenly aroma of this kala masala.
So this time, when we had been to India, I asked pachi for the recipe. She said she buys the ready made powder and also, every one has their own versions which have different aromas. She promised to ask around in her family and give me the recipe for the one she likes the most.
After few days, she suggested a recipe from the famous book Ruchira by Kamalabayi Ogle. When I tried this, I made very few modifications to it and reduced all the ingredients proportionately to make this powder in a quantity that we can finish when it is still fresh.
Verdict – I clearly remember this fragrance. A tea spn of this masala in any dish, brightens the whole dish. I have been using this a lot these days. I am living my college days again. One of the first dishes I tried with this is, my favorite Kale vatanechi amti .
Remember – If you are making any dry masala, make it in small quantity and finish as soon as possible (like in 1-2 months). As time passes, the fragrance goes away bit by bit.
Fry in oil:
1 cup coriander seeds
1/8 cup cumin seeds
3/4 tea spn shah jeera
1/2 tea spn cloves
1 fingerlong cinnamon
2 gms asafoetida
1/8 cup dagad phool
1/2 tea spn mustard seeds
1/4 tea spn fenugreek seeds
Dry roast:
1/8 cup sesame seeds
1/4 cup dessicated coconut
Other ingredients:
1/4 tea spn turmeric powder
1/4 cup chilli powder
Oil
Salt (I did not add this)
Method:
Heat very little oil and fry all the ingredients under 'fry in oil'. Take care not to burn anything. You can fry them one by one. Take them out.
Dry roast the ingredients under 'dry roast'.
Grind all of them together to a smooth powder. Add remaining ingredients and mix well.
Store in air tight container. (I divided it into two equal parts. One I kept in freezer. It will be used after the first batch gets over).
PS: For those who have never seen dagad phool, here is a picture. It is not same as star anise. This looks like dried flowers or lichens that are often seen on trees. It has a very strong smell. I think the main characteristic aroma of kala masala comes from this ingredient. Aayi uses this in her chicken curry, so for me, this spice has typical chicken curry smell :).