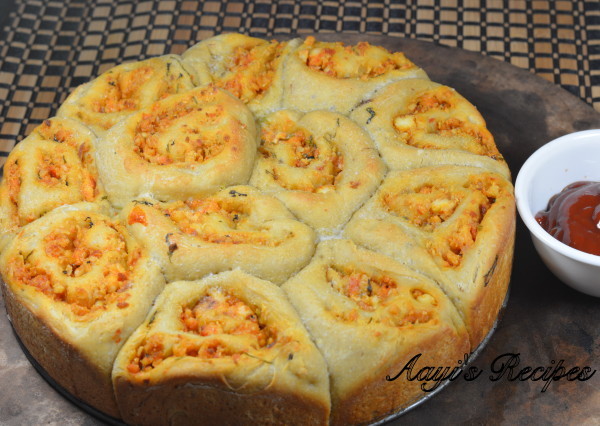 While growing up, I loved the spicy stuffed breads available in most of the bakeries in India. The aroma of fresh stuffed bread coming out of bakeries was divine. Even after more than a decade of living here, I can still remember the aroma/taste of it. I used to search for any savory breads here in bakeries, but so far I have not found anything close. So once in a while, when I want to eat those, I bake at home.  Few days ago, I baked these paneer stuffed pull apart rolls.
I started buying avocado when Ishaan was a toddler. He used to love eating it with a pinch of salt and lemon. Then there was a period of time, I totally forgot about them. Whenever I bought them, they sat on the kitchen counter and got overripe before I could use them. A friend suggested to refrigerate avocados to increase their life. Now I buy a bunch of them and put in fridge. I mix them in chapati dough to make super soft chapatis. So this time I wanted to try adding them to bread and the bread came out delicious.
Pictorial:
Spread paneer stuffing on the rolled dough.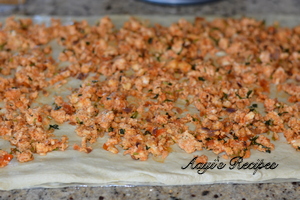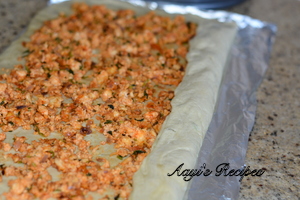 Roll the dough.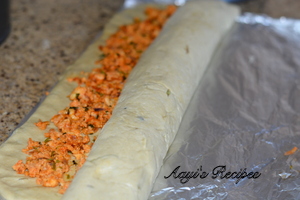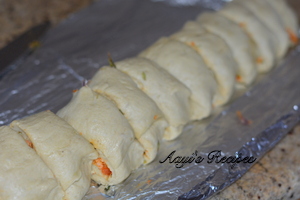 Cut and keep in the baking pan.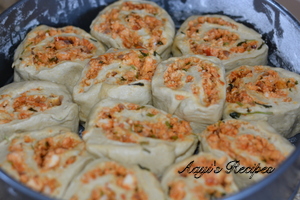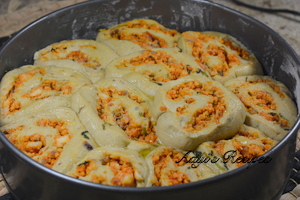 Ready to eat.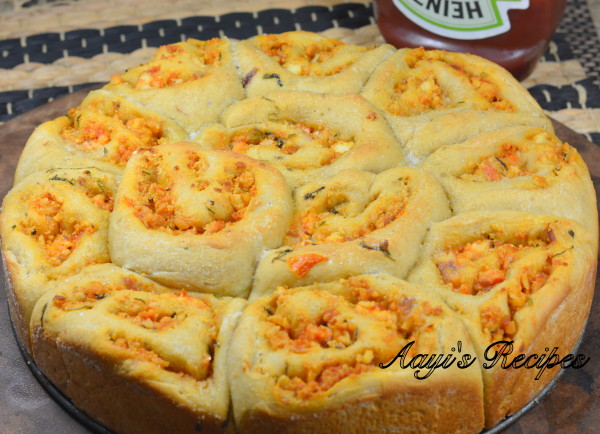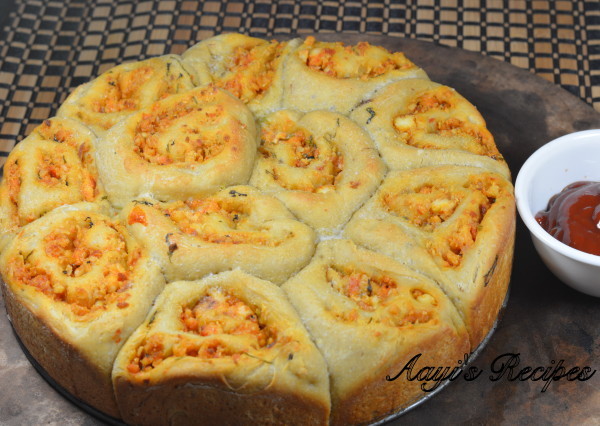 Paneer Stuffed Pull-Apart Rolls
Soft avocado bread stuffed with spicy paneer filling makes a great dinner or snack.
Ingredients
For the bread

1

1 and 1/2 tea spns pack active dry yeast

3

and 1/2 cups all purpose flour

1

cup

warm water

1

tbl spn butter

1

avocado

optional

1/2

cup

milk

1

tbl spn olive oil

1

tea spn honey

Salt

For the stuffing

2

cups

shredded paneer

1/4

cup

chopped onion

1

tbl spn coriander leaves

1

tea spn freshly made ginger-garlic paste

1

tea spn chilli powder

1

tea spn garam masala

Oil

Salt
Instructions
For stuffing :

Heat oil and add onions, ginger-garlic paste, salt.

Fry till onions are translucent.

Add garam masala, chilli powder and fry for a min.

Now add the paneer, coriander leaves and mix well.

Let it cool to room temperature.

For bread:

Take honey and warm water in a bowl and add the yeast.

Leave it around for 10mins till yeast gets activated.

Now add mashed avocado, softened butter, milk.

Add 1 cup flour at a time and mix.

Knead till dough comes together in a ball (it will still be sticky). I mix in my KitchenAid stand mixer.

Take on a flat surface dust with flour and knead for few minutes.

Take oil in the same bowl, keep the dough and move it around to coat with oil.

Cover the bowl and leave for about 2 hrs, till it is doubled in volume.

Punch the dough to deflate all the air. Knead for a min.

Assembling:

Roll the dough into a thin (about 1/4") thick rectangle.

Spread the stuffing on the bread.

Make a tight roll, tightly seal the edge.

Cut into 1 and 1/2 to 2 inch pieces.

Take a baking dish and apply little oil to it. I also dusted it with a little flour to avoid sticking.

Keep the bread pieces one beside the other.

Cover and keep it aside for about 1 hr.

The rolls would have risen well by now.

Preheat the oven at 350F.

Brush the rolls with butter or olive oil or milk.

Bake the rolls at 350F for about 45mins. (check after about 30mins).

Serve hot.
Notes
You can replace 1 cup of all purpose flour with 1 cup of whole wheat flour or multigrain atta. Add 1 tea spn of wheat gluten when using whole wheat or multigrain atta which helps it get fluffy.