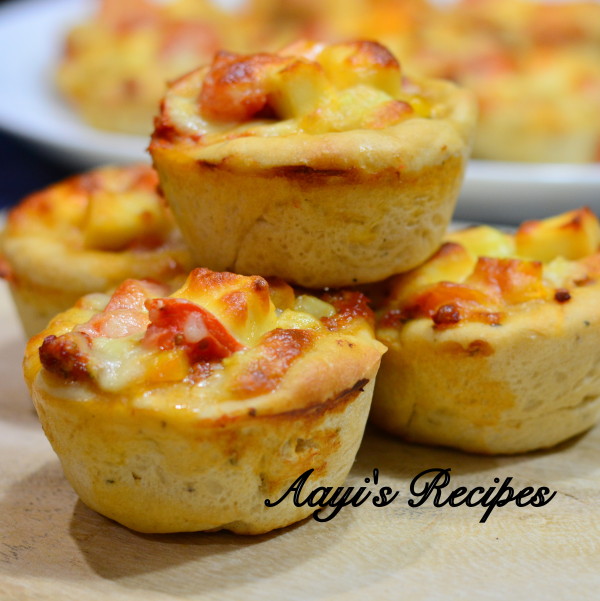 I am one of those moms who want my kids to learn cooking. I do not expect them to cook any elaborate dishes if they don't wish to, but atleast they should be able to feed themselves some fresh homemade food. I have been giving Ishaan little jobs in the kitchen whenever I can. He now gets excited when I ask him for "help".

Few days back we had a get together and we planned for make-your-own pizza for kids. I took the base, another friend got sauces and toppings. We rolled the bases and gave them their individual small bases. They cut them into different shapes with big cookie cutters, added whatever they wanted on the pizza. We baked the pizzas for them. They all were thrilled. Ishaan is huge fan of this idea. Since then he has been asking me to make pizzas every week.
This time I thought of making it a little different. We baked them in cupcakes. I did not know how they would come out. Ishaan loved to put sauce, toppings and cheese on them. They came out so delicious. Both the kids loved to eat them for dinner and they even took them in lunchboxes next day. I may make regularly now instead of normal pizzas.


Pictorial:
Brush a cupcake pan with butter. Line each cup with pizza base.

Brush the base with butter and cover and let it rise for another 30mins. Bake in preheated oven at 400F for 6mins.

Add the sauce (I used a mix of marinara and basil pesto) and toppings.
Top with cheese and bake at 400F for 15mins. I took them out of the pan and baked them for another 7mins.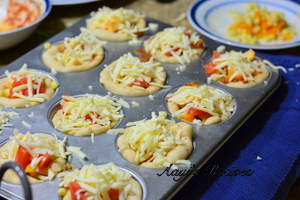 Pizza cupcakes
Pizzas bakes in cupcake pans
Ingredients
For pizza dough

1

pack active dry yeast

2

cups

water

2

cups

whole wheat flour

I use multigrain atta

2

and 1/2 cups

approx all purpose flour

1

tbl spn butter

1

tea spn honey

1

tea spn dired oregano

Olive oil

Salt

For topping

Sauce

Corn

Bellpepper

Tomato

Paneer

marinated in chilli powder and salt and then fried

Mozzarella cheese
Instructions
Take 1/2 cup lukewarm water and add honey, yeast to it.

Leave it aside till it becomes frothy (yeast gets active).

Now add remaining water, salt, wheat flour, oregano, melted butter and mix. (I sue stand mixer for this).

Gradually add remaining flour till the mixture comes into a dough but still very sticky.

Now take the dough on a floured surface and knead for a min.

Put the dough in a big bowl (I just use the stand mixer bowl), add 1-2 tea spns olive oil and move the dough around to coat with oil.

Leave the bowl covered till it doubles in volume (around 1 and 1/2 to 2 hrs.

Now punch the dough down to remove all the air.

Make small balls and roll them into rounds (as thick as stuffed paratha).

Brush cupcake pan with butter.

Now line each cup with the dough, brush with oil/butter, cover with a wet towel or plastic wrap and leave for about 30mins.

Preheat the oven for 400F (I keep a pizza stone in the middle rack, the stone helps to get crispy crust) , Keep the pan in hot oven and bake for about 5-6mins (I didn't want the dough becoming too soggy, so baked for few mins).

For the sauce, I used a mix of marinara sauce and basil pesto, use any desired sauce.

I microwaved the frozen corn and bellpepper cut into small pieces for about 1 mins.

I marinated paneer in chilli powder, salt and then shallow fried for few minutes.

Now add a tea spn of sauce in each cup, add corn, bellpepper, paneer, top with cheese and bake at 400F for 15mins.

I then removed the cupcakes from pan and bake them on the pizza stone for another 7-8mins.