Shrimp/Prawns are some of the very popular seafood available anywhere in the world. While growing up, we got very fresh ones, since we lived on coast. The fresh ones are so tasty. The big shrimp were a delicacy that we only got once in a while. Now we mostly get big ones, which are not comparable to the big shrimp we get here in supermarkets. So when we visit my parents, my parents get these fresh ones for us and one of the dishes we love the most is this Sungta ambat – a spicy coconut based gravy with shrimp. The gravy itself is very simple with just a few ingredients but it gets its taste from the shrimp.

Pictorial:
Fried coriander seeds, red chillies, coconut for grinding.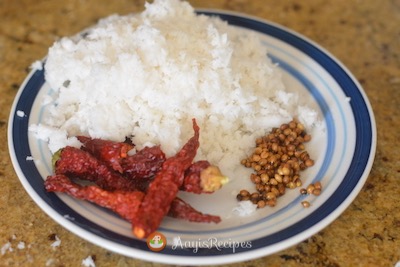 Grind everything to a smooth paste.
Fry onions and then add shrimp, fry for few minutes.
Add the ground paste, green chillies, kokum, salt and cook till done.
Ingredients:
1 cup prawns/shrimps
1 cup fresh/frozen coconut
1/2 cup onion
5 red chillies
1-2 green chili
1 tea spn coriander seeds
4 pieces dried kokum or 1/4th tea spn tamarind extract
Oil
Salt
Method:
Heat oil and fry coriander seeds. Grind with coconut and red chillies to a very smooth paste.
Heat oil and fry chopped onions till they turn slightly brownish. Add prawns/shrimps and fry for some time(till the prawns become white in color, this enhances the taste of the curry).
Add the ground masala, green chili(slitted) and kokum/tamarind(In the traditional recipe kokum is used, since I was not having that I used tamarind extract). Add salt and sufficient water. Cook till completely done.
Serve hot with rice.
Serves : 3-4
Preparation time : 30min
(Originally posted Mar 9 2006).