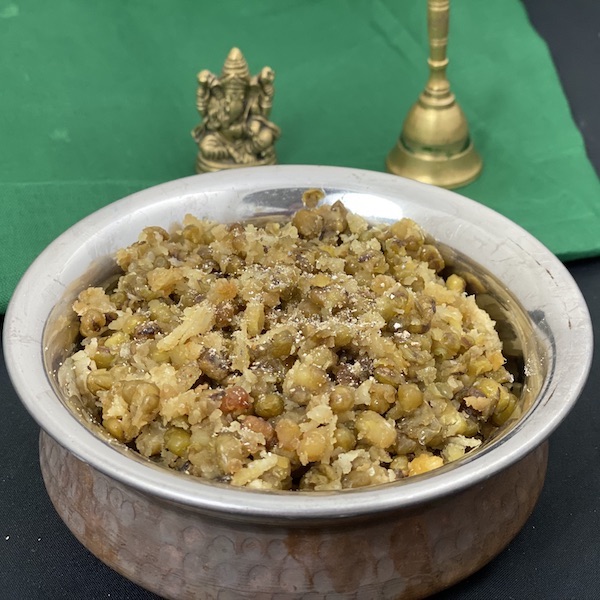 This green moong sweetdish – Mooga Khichdi is a traditional Konkani dish specifically prepared for the festival of Sankranti. Mooga Khichdi is also called Moog Shijayile, literally means cooked moong.
Mooga Khichdi is prepared during Sankranti and a little of it kept on the window for the birds to eat. It is believed that Sankrant Purush(God of this festival) comes in the form of a crow to eat the food. This is a classic example of Konkanis worshipping, feeding the animals, birds surrounding us. After it is offered to god, this Mooga Khichdi is consumed.
This Mooga Khichdi is flavored just with ghee and cardamom. When it is being cooked, the delicious aroma of the dish fills the entire house. Based on the quality of jaggery used, this can become very dry or very juicy/wet.

Aayi usually prepares the moong dal khichdi – mooga dali khichdi for Sankranti instead of this since that was the sweet made in her maternal home. Both have their own deliciousness.
Ingredients:
1 cup green moong
1 cup jaggery
1/2 cup coconut
1 tbl spn ghee
5-6 cardamom
Method:
Cook green moong in pressure cooker till it is cooked through. If the moong is very old, make sure to soak it in water for 1 hr.
Heat ghee and add moong, jaggery, coconut.
Cover the lid and cook till jaggery is melted.
Mix well and take off heat.
Add powdered cardamom. Mix well.
Serves : 3-4
Preparation time : 20 mins