There are many recipes that are passed on from one generation to another generation. However there are few out of them, which are not liked by this generation… at least at my house. None of my immediate relatives like smell of Shepi(Dill leaves) and hence this one is hardly prepared and would have lost from our contemporary radar but for my wife. Now this one is prepared by my wife for breakfast and she brings this recipe in, from her mother. I do like this dish but not my parents or any other immediate relatives. I have heard from Aayi that some of our relatives who are contemporaries of my grandfather still prepare this. But at my ancestral house, as no one liked, it was never prepared. This may also because Shepi(dill) leaves are not easily or regularly available in coastal area. We do prepare this now at Bangalore, when we don't have guests. So over a period of time, a breakfast dish has become sort of 'temporary' instead of staying contemporary!!! This will have strong smell(and for me it is fragrance!!) and I wonder why Dill leaves have not won many Dil(hearts)s !!!
Ingredients:
2 cups dill leaves
1 cup rava
4 tbl spn jaggery
1 cup thin poha(flattened rice)
1 cup fresh/frozen grated coconut
Salt to taste
Method:

Soak poha in water for couple of minutes. Do not leave it in water as it becomes soggy. 
Mix all ingredients except rava. Grind them to make smooth paste.
Mix rava and ensure that no lumps are formed.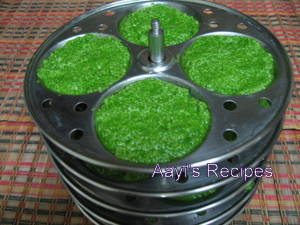 Pour in to idli molds and steam for 20 minutes(or microwave for 5 minutes).
Serve with chutney or chutney powder.
Serves : 2
Preparation time : 30mins