Patholi (pronounced as 'paathoLi') is the most important sweet dish for Gowri festival(which is on coming Sunday) and also for Nagar Panchami. During these festivals, we can find 'Turmeric leaves' at native (those who are in India, can find these leaves in Mangalore stores). Turmeric or plumeria or Frangipani(called as Kudchampe in Konkani, thanks Baab for the English name) leaves are used for this dish.

Gowri festival is one of the most popular festivals for Konkani women. We celebrate it as 'Vaayna pooja' (coconut pooja is performed on this day and those coconuts are called 'Vaayn'). Like Ganapathi pooja, this is also done in places where people have kept this vrata/pooja. Some people do only Vayna pooja, some people keep a Gowri photo and perform the pooja, depends on how they have been following it for generations. My mother performs vayna pooja, here is how she does it
– Coconuts are washed with turmeric water. (Usually 11, 15, 25 coconuts are used. I have no idea about the significance of these numbers).
– Kajal is applied to one eye, sandalwood paste(gandh) to second eye and kumkum to third eye (I think this is done as a significance of mangalya). Few people apply Kajal to two eyes, kumkum and gandh in between to signify two eyes of coconut as two eyes of Goddess gowri.
– A circular mark is done around the coconuts with chalk.
– A reddish colored thread is available in market which is used for this festival. 5 black beads(similar to the ones in Mangalsutra) are inserted into the thread and then the thread is tied into a knot (to hold the beads together).
– Infront of god, few banana leaves are spread on the floor. A layer of rice is spread.
– On top of this the coconuts are kept.
– Few oil lamps are kept on the coconut (usually 5 lamps and more).
– The threads with beads are kept on one of coconut.
– One hair brush, 5 green bangles are kept (my mom does not keep these two. It depends on how things are followed for generations).
– Decorated with flowers
After all these things are done, the pooja is performed. As prasadam, 'patholi' and 'goDa phovu' (Mix jaggery with coconut. Then mix poha).
After the pooja is performed, the coconuts are given to temples(kuldevata temple) and elder women (only to muttaide/suhaagans, meaning whose husbands are alive).
The thread is tied to the mangalsutra.
The Gowri pooja along with photo or statue of Gowri is much more elaborate than this. (I do not know the exact procedure as my mom only performed Vayna pooja).
(I hope this post is understandable. I have done my best to write about everything related to the pooja).
Ingredients for Patholi:
Coconut 1 cup
Rice 1 cup
Poha(avalakki) 1/4 cup (one handful)
Salt
Turmeric leaves 8-10 or parchment paper
For filling:
Coconut 3/4 cup
Jaggery 1/2 cup
Cardamom powder 1/2 tea spn
Method:
Soak the rice in water for around 1hr.
Grind it along with coconut (without adding much water). Now add washed poha and grind to get a smooth paste. Add salt.
Heat coconut and jaggery mixing continuously till the jaggery melts and forms a uniform mixture. Add the cardamom powder.
Spread a thin layer of the rice paste on the leaf (or parchment paper piece).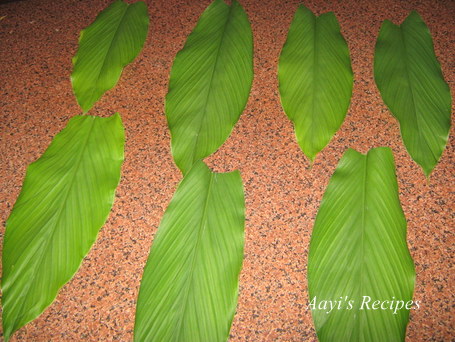 Spread around 1-2 tea spns of stuffing on it.
Fold the leaf(or parchment paper) as shown.
Pile in the steamer or in a cooker vessel.
Steam it for around 12-15mins.
Preparation time : 40min
Makes around 8-10 patholis