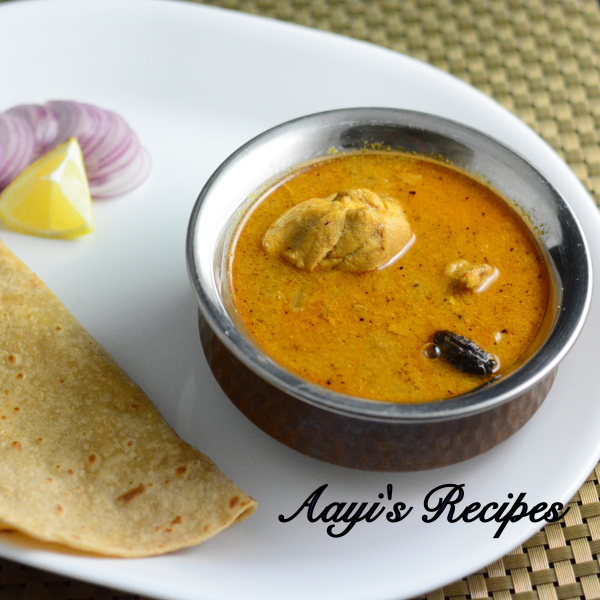 Last December when I was pregnant with Ayaan, I had invited few of my friends and their parents (who were visiting them) to dinner. I told aunty that I love chicken and she told me she will make something for me. She had only 1-2 weeks until she returned to India. She was very sweet to take out time in the busy schedule to cook and send a big batch of chicken curry.
If there is one spice that is commonly used in Indian cooking that I cannot stand, it is black cardamom. I have tried it in different ways and somehow I never liked the aroma of it. But that cardamom did something magical to this chicken curry. It reminded me the chicken curry that I used to love eating in restaurants back home. I won't lie, I did not want to share it with V or Ishaan. Yes, I was very mean. Comeon, I was 7 months pregnant and someone had sent me something that I really loved. I must have given them just few spoons of curry and I pretty much finished everything else. Then I asked aunty for the recipe and she was very kind to share it with me.
I have tried this couple of times. I did not want to buy black cardamom for this one dish, so I prepared it without that few times. But it never came out like aunty's. Then I bought a small pack of black cardamom and tried again and it made such a huge difference to the curry.
Pictorial:
Half cook the chicken in spices.


Heat oil and fry whole spices, ginger-garlic paste.


Add the powders, fry for few minutes. Add chicken and cook.

Chicken Curry with Black Cardamom
Flavorful chicken curry spiced with black cardamom and other whole spices.
Ingredients
1

kg

Chicken

1

cup

finely chopped onion

1

cup

roughly chopped onion

this will go into paste

1

cup

of dry coconut

2

tbl spn poppy seeds

khuskhus

1

tbl spn sesame seeds

til

2

tbl spn ginger garlic paste

A pinch turmeric

2

tbl spn coriander powder

1

tbl spn red chili powder

1

tbl spn spn garam masala

1/2

tea spn cardamom powder

Salt
Whole spices :
2

" cinnamon

2-3

cloves

3-4

black cardamom

masala velchi/moti elaichi

3-4

peppercorns

2

bay leaves
Instructions
Dry roast poppy seeds, sesame seeds, dry coconut, cool them and grind to powder.

In a pan, heat oil and fry the roughly chopped onion till they are golden brown and grind to a paste.

Heat oil and add finely chopped onion, 1 tbl spn ginger garlic paste.

Fry till the onions are translucent.

Add turmeric, coriander powder, red chilli powder, fry for a minute.

Add the chicken, salt and cook till chicken is halfway cooked.

In a separate pan, heat oil and add whole spices.

Add remaining ginger-garlic paste, ground coconut, poppy seeds, sesame seed powders, onion paste, cardamom powder, garam masala.

Fry for few minutes and then add the half cooked chicken.

Add water to bring it to required consistancy. Adjust salt.

Serve hot.