I guess this is the most popular chaat in India. Everybody has his/her own recipe for pani puri. We used to go to a pani puri cart near Madhavan park, Jayanagar, Bangalore. I never liked to eat at roadside carts before that, but once I tried it there, I became a regular customer. But where did I got the real taste of pani puri and how I grew up as a biggest fan of it, follows.
My maternal grandmother used to make the tastiest pani puri ever. I have tasted pani puris at many places, but her pani puri was, is and will be my all time favourite. I still remember, when I was a kid, we went to her house during every summer and october holidays. She used to sit on the ground with her gas stove(because making the puris by standing all the time was too tiresome) and whenever she made pani puri, she used to make over a hundred puris (she knew there was a small devil at home who had everlasting hunger to eat pani puris. No prizes for guessing who that was :D). My mom picked this recipe from her and even she makes these delicious pani puris often (that means whenever I go to meet her). These days life has become easy with the ready made pani puris!!!.
Some people at home felt eating pani puri is a headache. Because we had to stuff moong, onion, sev and then fill the puris with pani before eating. But I never bothered about that extra WORK :).
The most important thing which is different in this traditional recipe, and ofcourse the source of the heavenly taste, is the stuffing. Instead of normal potato stuffing, this has sprouted moong stuffing. The pani has a strong taste of coriander leaves as well as ginger. It is sweet, spicy and sour.
PS : If you want to have the correct blend of taste, use the sprouted moong stuffing, refrain from making any modifications to the recipe given below. I liked the taste without onions, but finely chopped onion(used as a stuffing) was also served along with this.
Puris – Ready made puris can be used.
Pani
Ingredients:
Coriander leaves 3/4 cup
Green chillies 3-4
Ginger 2″ piece
Cumin(jeera) seeds 1 tea spn
Jaggery 1 tbl spn
Dates (Khajoor) 7-8 (I used 1 and 1/2 tbl spn of pitted ready to bake dates)
Tamarind extract(thick) 1 and 1/2 tea spn
Salt
Method:
Grind all the ingredients together to a thick chutney. This chutnet can be preserved for 2-3 days. While serving, dilute it with water to required consistency(do not make it too watery).
Stuffing
Sprouted moong 1 cup
Onion (finely chopped) 1/2 cup
Sev 1/2 cup
Wash the sprouted moong to remove as much skin as possible. Then cook with 3/4 tea spn salt and about 3/4 cup of water. (Approximately two whistles in cooker).
Serve puris with pani, onions, sev and cooked moong.
How to eat
Stuff the puris with moong, onions and sev (1 : 1/2 : 1/2 proportion). Pour pani in the stuffed puri. Enjoy :D.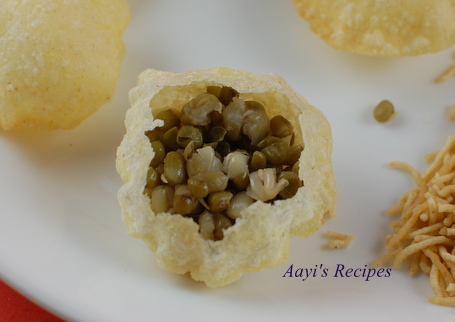 Serves : 3
Preparation time : 20mins 
PS: This is a version made at my home from 3 generations now. I am sure this version is not available anywhere else because it has very unique and different taste. I will post the more known version some other time.
Updated : I have removed puri recipe, will update it soon.