This is a cake recipe I got from my pachi(mom's sister). She has an amazing collection of very easy and very tasty food. One among them is this cake. The cake mix requires hardly 2-3 steps and you will have a cake with amazing taste :).
This is one of the dishes she always prepared for any parties at her home. It became so popular that everybody started asking her for this recipe. It spread in her circle of friends and relatives like a wild fever. After a few days everybody was baking this cake at their home. There is a tradition in their family to send food items, mostly sweets or some other special dishes, to friends and relatives occasionally -once in a month or so. After this 'cake fever', everybody was finding this cake in the box sent to them. Finally Pachi was so bored of eating it, she had to stop baking this.
When I started baking, I prepared this once and took it to office. Again, the 'cake fever' was spread in the office. Everybody who tasted the cake thought I bought it from the store and was bluffing about having baked it myself!!!. So be careful when you are baking this, you might start a 'cake fever' again :D.
This cake tastes great when served with vanilla icecream.
Ingredinets:
18 dates(Khajoor)
3/4 cup milk
3/4 cup sugar
1 cup all purpose flour or maida
1/2 cup oil
1 tea spn baking soda
1 tbl spn cashews, walnuts(optional)
PS: If you use 'baking powder' instead of 'baking soda', cake becomes a bit harder.
Method:
Soak the dates in warm milk overnight (I usually don't soak the dates since I use the seedless dates, I just heat milk and dates for few minutes or microwave them so that dates becomes soft and help in grinding). Remove the seeds. Add sugar and grind them to a smooth paste along with the milk in which it is soaked in. Add oil and mix.
Sieve together flour and baking soda. Add the flour one table spoon at a time and mix slowly. Add the nuts and mix.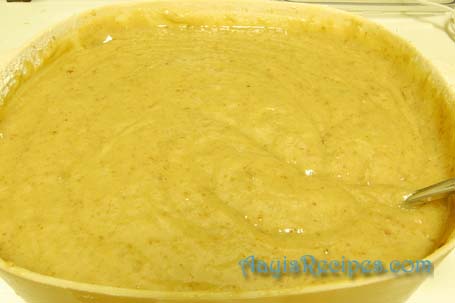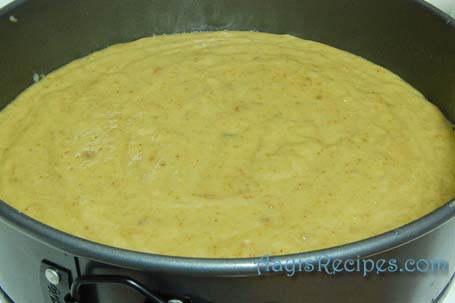 Preheat the oven at 350F. Bake the cake in a greased oven proof dish for 35-40min (or till a knife inserted in the cake comes out clean).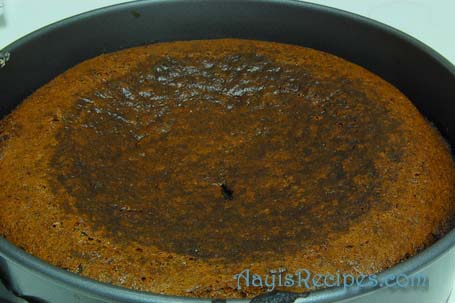 Makes 8 large pieces
Preparation time : 45min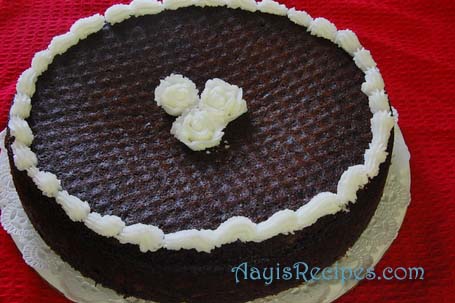 Updated pictures on Feb 17th 2008 :
PS: The color of the cake largely depends on the dates used. I have made it with different varieties of dates and sometimes it turns out black and sometimes it is very light in color. So do not panic if your cake does not look exactly like mine.
In above picture, I have used buttercream icing for decoration.
One change I made this time is, I didn't add oil. It was a bit less dense, but the taste was still great. So I think I will be baking the low calorie version, ie without oil hereafter. All other ingredients quantity remain same.