Few days ago I was chatting with my friend Priya and she mentioned using parboiled rice in idli/dosas. I don't usually like the texture of idlis/dosas made with ukdo tandul(matta rice). She mentioned that she makes idlis with all parboiled rice. This is the only parboiled rice I have in the pantry. So I thought I would have to try Matta Rice idli/dosas again. I have to say this was one of the best idlis I have made in a while. They were pillowy soft and delicious.

This Matta Rice Idli/Dosa batter was used for a week in different forms – dosas, idlis, appe, uttappa. This became sour a bit faster than the all idli rice batter but it also made very soft and delicious idlis. I used 50% urad dal with skin. The skin gives some fiber. You can use all this or the whole black urad or dal/whole urad without skin. All the versions work well.

The next day, I made dosas with the same batter. Use a well-oiled tava for making the dosas. I served the dosas with a spicy chutney and they tasted amazing.
Then the next day was appe. They had outer crispy sides and but very soft in the center, just the way appe should be.
Last was uttappa. By now the batter had a sourness. The addition of a lot of onions and coriander leaves offsets the sourness. Give these a try and I am sure you would love these.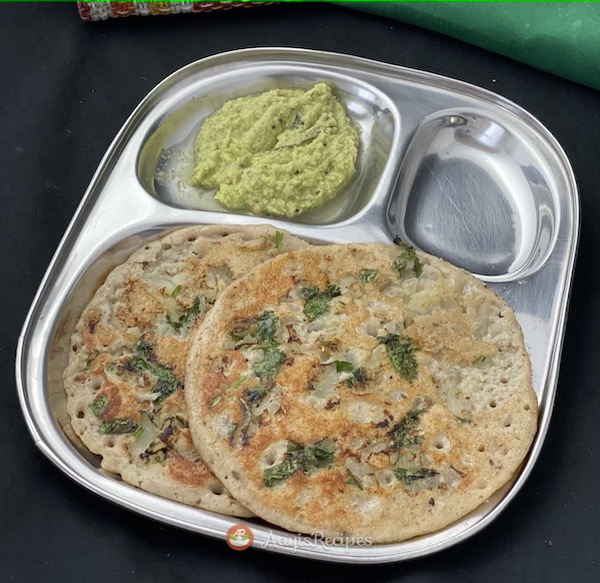 Check out these matta rice appe recipe too where the batter is specifically made for appe.
Check out the idli post here.
Instructions
Soak dals (use urad dal with skin or skinless or the mixture like I did) and rice separately for about 3-4 hours.
Grind dals till the batter is super soft,. You should see lot of bubbled on the top after grinding it the batter should be very smooth to touch. I let my wet grinder go for almost 45 mins.
Then add the rice to the grinder and grind again for another 20mins. If your wet grinder cannot handle the load, make it in two batches.
Add salt at the end and let the grinder go for another 1-2 mins.
Ferment the batter overnight.
For the best results, make idlis on the first day with freshly fermented batter.
Keep the remaining batter in fridge in airtight container.
On subsequent days when making dosas or appe, use a clean spoon to transfer required amount of batter in a different utensil. Do not mix the spoon used for making dosas in the saved batter (mixing with same spoon will transfer some heat to batter and it will get sour faster).