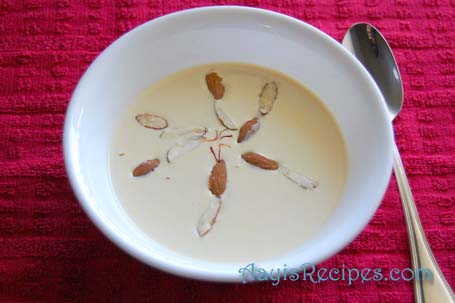 Basundi is a very popular Maharashtrian sweet dish. I have tasted it couple of times when I was a kid. But since I am very intolerant to sweets, I never actually gave any attention to any of the sweets. Though I had seen this recipe a million times in my recipe collections, I never felt like trying it. All changed when Aruna went through recipe request page and sent this recipe. I think my husband saw the mail and he asked for Basundi on his birthday. Anyway I was planning to make it, so I tried it immediately when he asked. This came out really very good.
Aruna said, "Basundi is basically as Maharashtrian sweet and is made by reducing milk to half, it is served with puris. When the milk is reduced to 1/4 it is called Rabadi or rabdi in North India. My mom keeps milk for boiling and reduces the flame when it starts boiling. Once the milk reduces to half add the sugar. I would not be able to tell you the exact qty of sugar, but i use my judgement and then check if sugar is more or less. Then add kesar for color (presoaked in warm milk). Add elachi powder and sliced almonds for garnishing. My mom never adds cashews and even I have not seen it elsewhere. My mom adds sayi (malai) when boiling and her basundi is the best I have eaten. In weddings in Mumbai usually cold basundi is served, but I get a lot of smell of cornflour in that.
In US when I have kept the milk for boiling, even if I have stirred it continuously it touches the base of the pan. Last I made, I used Half and half for that and added some whipped cream. The results were good and it was faster and took less time".
Ingredients:
3 cups milk or half & half
3/4 cup sugar(approx)
3-4 saffron strands
1/4 tea spn cardamom powder
2-3 tbl spn heavy whipping cream
1 tea spn sliced almonds
Sugar needs to be adjusted according to individual taste. Milk in US sticks to bottom, so use half & half instead. This is available in any grocery stores. In India, use normal milk.
Method:
Heat milk in a thick bottomed pan. Keep the heat on medium and cook till the milk reduces to half. Add the sugar and cook till the sugar is dissolved. Now add saffron strands diluted in little warm milk (I directly added saffron to the cooking mixture). Add whipping cream and mix well. The consistency of the milk should be very thick.
Take out from heat, add cardamom and almonds. Serve hot or cold.
Serves : 2-3
Preparation time : 20mins