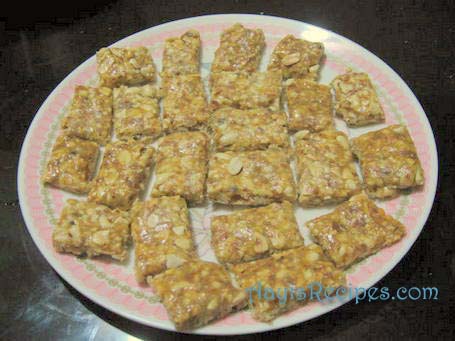 This dish was in my draft for a very long time. I thought it is the best time to post it since Ganesh Chaturthi is just 3 days away. These pictures were taken at my native by my brother when aayi prepared these.
When we were kids, my aayi would prepare these delicious treats in a big batch and we would munch on these for many days. The aroma that comes out of this when the peanuts are roasted, then mixed with sugar and cardamom is just amazing. Aayi would make these and spread on a board and then Pappa would cut them in neat pieces. They would give us the shapeless pieces from the sides – the diamond/square shaped ones were saved in air tight containers to be eaten later. My brother and I always loved to eat these when they were still warm, Yummm :).
Ingredients:
1 cup peanuts
1 cup sugar
3 tea spns ghee
1/2 tea spn cardamom powder
Method:
Roast the peanuts on a medium flame. Remove the skin and make a coarse powder.
Heat ghee, add sugar. Heat on a medium/low flame, mixing it continuously. When all sugar melts down, immediately add the peanut powder. Remove from heat and mix well.
Grease a plate/cutting board with ghee, pour this mixture on top, roll into a big round. Cut them immediately.
Preparation time : 15mins
PS: The sugar should not be heated for long. Once it melts down, immediately the peanut powder should be added.
Mixture should not be allowed to cool before spreading. If it cools a bit, it cannot be spread and once it reaches this point, you cannot bring it to normal again.
Updated:
These can also be made with jaggery. When jaggery is used, do not use ghee, the whole process takes more time since jaggery needs to be heated till it has the right consistency. After heating the jaggery, put a drop of it in a bowl of water. If the drop sits like a solid drop in water, then you have the right consistency. Other steps are same as above. At my home, sugar version is more popular. When we want to make with jaggery, we use molasses(the black colored liquid jaggery), if the solid version that is available here is used, heat it with little water to avoid any burning.
I am sending this to Lakshmi's Ganesh festival event