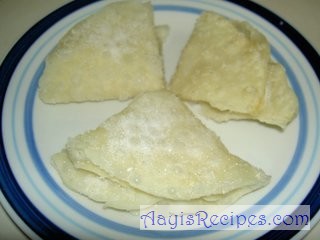 During Konkani weddings, we make a set of sweet dishes. The most famous among them is 'ManDe/chowde'(Konkani) or ManDige(Kannada). Usually the previous day of wedding (or same day as wedding, but before actual wedding), we do a pooja called as 'Sreemanth pooja'. (Some day in future, I will elaborate on all these functions). During this, 5 types of sweets are prepared. Mother-in-laws feed a bite of these sweets to their would-be Son-in-law or daughter-in-law. Usually for this occasion the sweets are made in huge size (a huge laddu, huge manDe, huge chiroti etc which look beautiful but cannot be finished by one person). There are other significances of manDe at weddings.
The other place where this dish has a lot of importance is 'Ganesh Chaturthi'. This dish is prepared as an offering to god.
These days this dish is readily available in markets. So people prefer to buy it instead of making this dish at home.
When my mom gave me this recipe last week, I immediately knew I had to send it to Santhi's JFI for flour event. I prepared this here and absolutely loved the taste. I had tasted this after ages (I don't know how I missed this during my wedding and my brother's wedding). This is a crispy, sweet dish.
Ingredients:
1 cup maida or all purpose flour
2 tea spn ghee
½ cup powdered sugar
1 tbl spn sesame seeds (white til)
½ tea spn cardamom powder
Oil for deep frying
Salt a pinch
Method:
Make hard dough with floor, ghee, salt and water.
Take small balls of dough and roll it into medium sized chapathis (roll them into as thin as possible).
Wash sesame in water and drain. Roast them on a tava (when roasted, sesame pops up). Do not burn them. Mix sugar and cardamom with sesame. Keep it aside.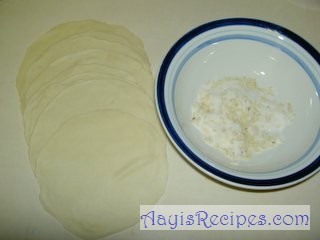 Heat oil and deep fry the discs one by one. They should still remain white colored when fried. So don't fry for long time. Just leave them in hot oil and immediately remove. Small bubbles appear on the surface indicating they are cooked. If kept for a longer time, they become stiff and cannot be folded.
Spread the sugar mixture. It should be done when the fried discs are still hot, otherwise the sugar will not stick to them. Fold it into a triangle as shown below spreading the sugar mixture on all the folds.
Store them in airtight container. They remain good for at least 15 days, if stored properly.
Makes around 10
Preparation time: 40mins
I usually use the smallest possible vessel for deep frying, so that only little oil can be used for frying. This reduces the wasting of oil. I rolled them into a puri size, since I had used the small vessel.