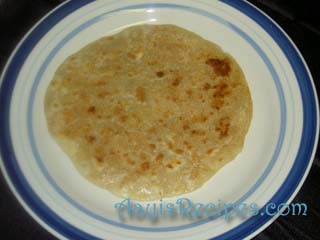 Kayi(Kannada), Narlu(Konkani) means coconut. Obbattu(Kannada), ubbatti(Konkani) – a kind of sweet roti, is very popular in Karnataka. I have tasted it many times at different places, but the best among them was my friend Poornima's obbattus. They make this at many festivals. She used to bring these in her lunchboxes and I simply loved them.
Few days back when I was reading my Kannada magazine collection, I found a recipe for this dish. The recipe looked a little elaborate to me. So I didn't give it a try. Then while talking to Poornima few days back, she mentioned that I haven't posted this recipe. She gave me recipe but somehow I was very lazy to try this.
Yesterday when I was posting a recipe for JFI coconut here, I realised I could have sent this recipe to the event. So I tried it immediately and it turned out to be great. My husband's comment on this, "This is the best sweetdish you have ever prepared". Within minutes, all the obbattus were gone :).
The outer wrap came out very crispy and tasty. I used very little oil. The poppy seeds (khus khus) gives a very distinct taste to this dish. I made them very very thin. I din't use rolling pin, instead just rolled them with hand, so I could make them real thin.The outer wrap needs to be kept for atleast 2 hrs but I left it for around 15-20mins, still it came out very well.
This is a very simple recipe, I want all of you to try this atleast once, because they are too good to miss. Even those who don't like coconut, can try this because it has a very distinct poppy seed taste which is just superb.
My Aayi's version does not have poppy seed in it. Both versions are equally good, but the poppy seed gives a very different taste to it.
This is my entry to Ashwini's JFI coconut. See Manjula's recipe of this dish. See puran poli recipe which is similar to this but has a different stuffing.
Ingredients for KaNaka (outer wrap):
3/4 cup all purpose flour or maida
3/4 cup chiroti rava(wheat sooji)
A pinch salt
1 tbl spn oil
Method:
Mix flour, rava, salt with water to make a soft dough(Do not make the dough very hard). Now add oil and mix well. Leave this dough for around 1-2hrs. When you try to roll this dough into a small puri with hand, it sould not break, if it breaks, the dough might be too hard/dry.
Ingredients for HooraNa (stuffing):
1 cup grated coconut (fresh or frozen)
1/2 cup poppy seeds(khus khus)
1 cup jaggery
1/4 tea spn cardamom powder(optional)
1 tea spn ghee
Increase or decrease the jaggery according to taste.
Method:
Squeeze the coconut by hand to remove any moisture/juice out of it (you can skip this for frozen coconut). Heat ghee and fry coconut for around 5mins on a medium heat till it becomes dry. Now add the jaggery and mix till the jaggery is melted and well mixed with coconut. Switch off the heat.
Now grind this mixture to a coarse powder.
Roast poppy seeds on a medium flame till a nice aroma comes out of it. Mix this with powdered jaggery-coconut and cardamom. Mix with hand.
Procedure to make obbattu:
Make a big ball of stuffing. Take a small ball (almost 1/2 to 3/4th size of stuffing, don't make the outer wrap too big) of outer wrap.
Apply ghee to a plastic paper. Fold it into half and keep the wrap ball on one half. With the fingers, spread into a small puri size.
Keep the stuffing on it and wrap the wrapper around stuffing.
Close the second half of plastic paper over it.
Press on the paper till the ball becomes a big thin circle.
Heat a tava and fry the obbattu on both sides. Apply some ghee to it while frying to make it very crispy(they puff like puris while frying).
Makes 5-6 obbattus
Preparation time : 30mins