From my childhood, I have a strong aversion to apple. No matter how much I tried, I cannot get myself to like this fruit. My parents did everything they could to make me eat this. Even now, whenever we talk to them, they tell me to eat it. My hubby has a entirely different story. He has no problem in eating this, but he wants someone to cut it into pieces and give him. He promptly brings 4-5 apples once in a month and keeps them in fridge. On the first day, in full enthusiasm, he neatly cuts and eats one. Thats it. Remaining apples just sit there begging to be eaten. I don't know how many times this has repeated. I have decided now to reduce such wastage as much as possible(yeah..I do think of making some new year resolutions, but whether I follow them or not is another story).
Yesterday when I saw 5 beautiful golden apples in the fridge, I was really irritated. We were just back from shopping and I had to cook for dinner. As usual, I wanted to make something new. So when I was going through my recipe books, I saw a recipe for apple burfi. One of the main ingredients was khova. I never buy khova unless I have preplanned something with it (which has never happened so far) and I was out of milk (with which I could have made it at home). Then there was a step to create one string sugar syrup, which is not my cup of tea. So I decided to take a chance and change the recipe completely.
I followed my mom's bottle gourd burfi recipe, which happens to be my absolute favorite. I had very less hopes that it would work out. But it turned out great. It was more or less like the halwas available in India. The entire batch was gone within minutes. I think I am going to buy apples hereafter to make this halwa :).
Ingredients:
2 cups grated apples (about 3-4 apples)
1 cup sugar
1 tbl spn ghee (this is just used for aroma, can be omitted if desired)
2 tbl spn chopped or coarsely powdered almonds
1/2 tea spn cardamom powder
Method:
Peel the apples and grate them.
Heat ghee in a thick bottomed (or non stick) pan. Add the grated apple and fry on a medium flame, till all the water is evaporated and it looks like cooked. It takes about 10mins or so.
Now add the sugar. Actually at this step, the apple should be measured and equal volume of sugar should be added.
Cook, mixing occasionally, till the mixture thickens and all the sugar is mixed well with apples. Towards the end, you need to mix continuously, otherwise it sticks to bottom of the pan and gets burnt.
Add the chopped or coarsely powdered almonds and mix it.
When it looks very dry, add cardamom powder, mix .
Transfer the contents on a greased(with ghee) plate or cutting board. I just used a wax paper. Flatten it with a rolling pin. To avoid sticking to rolling pin, grease it with some ghee.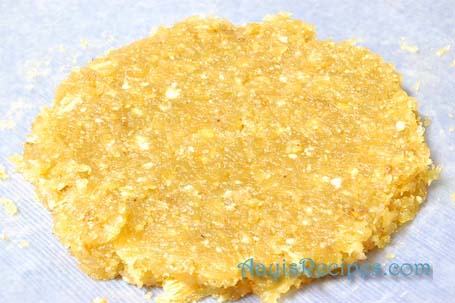 Cut it into squares. Let it cool down a bit and then take out the pieces and press the ends to the board to get even shapes.
Makes about 15-20 halwas
Preparation time : 40mins