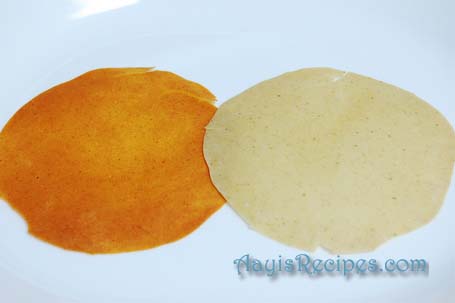 Papad (happolu in Konkani or happala in Kannada) is one of the constituents of Konkani as well as many other Indian meal. There are many types of papads. Banana papad is already on this blog. Jackfruit papads and wheat papads are known to many people. Many people make garlic papads. Making all these were possible in many joint families, because all the women joined hands in carrying out the project. Today I am posting this urad papad which many people make at home though it is a tedious procedure. Due to the availability of many branded papads (like Lijjat papads etc.) and non-availability of the assistance from womenfolk, papad making at home is vanishing slowly. Here and there, we find many women organizations making the papads on a large scale and selling them in the market. But some are still sticking to making them at home as they can get papads as per their own taste and to preserve this procedure for their next generation.
When I came to Kodkani after my marriage, I could not get any assistance from any ladies in my house. My mother-in-law had passed away and my sisters-in-laws were married. My husband and father-in-law were the only two people with whom I could share my views. We were getting whole uradgrams from the tenants. These were measured in kolaga which looks like follows.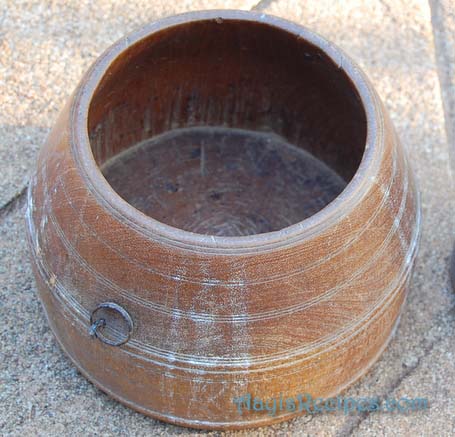 After cleaning and sun drying, I would mix oil with the uradgrams and keep them overnight.The next day, I would make dal from these oiled uradgram using daante or beesuva kallu(which looks as follows).
We employed some help to hand pound this dal using the vaan/kaannan in Konkani or onake(in Kannada) which is a wooden long club meant for pounding paddy grains. This separated the skin of the black dal (so called moyu in Konkani). This much process has vanished now as we get better quality urad dal in market. I always use double ghoda brand uraddal as it is clean and white.
After a couple of years, I started making papads by taking help from neighboring women. Few of them would come to roll papads at our home and in turn Shilpa and I would go to their homes when they made papads. My father-in-law or husband would help in pounding the dough (which required a lot of strength) on hand grinder(ragdo) which looks likes this –
All the kids would help in spreading them and also making hapli(papad rolled into small discs). We had many rolling boards(called latpaLe) at home to make just these papads. We would usually make one batch of white(with green chilies) and one batch of red(with red chilies). Many years I have also made it many times to give to our relatives. I stopped making them at home after my children moved away from home. Our neighbor started her own small business of making papads and selling them. So now we buy from her.
Usually two types of papads are made. White papads(dhavve happolu) are made with green chillies and red papads(tambde happolu) using red chilli powder. When same quantity of urad dal is used, we get more number of red papads than green papads. I always use Gokarn green chillies which are mildly hot (I know these are not available everywhere, but still thought of mentioning it) as it gives good colour and aroma.
Sometimes handful of special chilies called as sapur mirsang (thin chilies) are used along with normal chilies to give extra spiciness. Following is a picture of such chilies dried.
Many people like eating the dough before making the papads. Usually small balls of dough(called guLi) is dipped in coconut oil and this is a very popular way of eating them. The other popular way is nevri. A thin papad with one or more guLi is rolled and some loose urad flour is kept in center. A small well is created in the center and coconut oil is poured in the well. Now the sides are closed. A small hole is left open at one side. The kids would blow air into them like balloon and secure the end and eat them. This was one of the main attractions for kids in the whole papad making procedure. My husband and son both love this till today. Whenever my son visits us, he goes to neighbor's home to bring nevri.
Traditionally, these papads are directly held on the hot stove to roast them(be very careful while doing this as they get burnt easily). Then few drops of coconut oil is sprinkled on them and served. But in large functions, these are deep fried as roasting them on stove takes a long time. They can even be roasted in the microwave.
All pictures of papad making were taken at our neighbor's home as I didn't make them in a long time now.
Ingredients:
3 kg urad flour
1 kg green chillies
50 grams baking soda
50 grams papadkhar
10 grams asafoetida
250 grams salt
4 teaspoonful pepper
500 ml coconut oil
To make red chilli papads use 500 grams of red chilli powder in place of green chillies.
Method:
Add one teaspoonful of coconut oil to the green chillies and sprinkle some 3-4 teaspoonful of water. Steam boil the green chillies in a pressure-cooker. Cool it to room temperature and then grind it smoothly in a mixer or grinder.
Add soda, papadkhar, asafoetida, salt and pepper powder to the paste and grind again.
Take the paste in a big vessel and mix with the urad flour. Leave aside 2-3 cups of urad flour as it is necessary while rolling papads. Add water enough to make it a dough.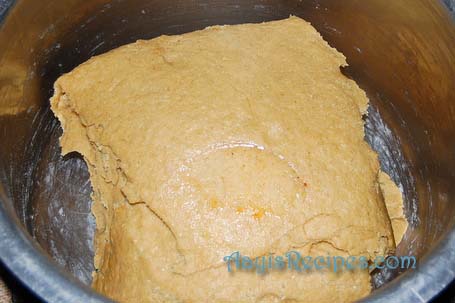 Smear oil to the grinding stone (ragdo in konkani or oralugallu in kannada) and parayi/haare and then pound the mixture and make 4-5 balls. If necessary use a little quantity of oil while making the balls. Do not add much water to it. The balls should be harder than puri dough. Keep it overnight.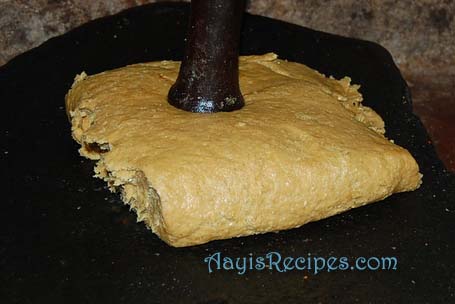 Next day, smoothen the dough by taking small pieces in hand and then kneading it by stretching again and again.
Roll into a thick rope, cut into small pieces as in making puris. These are called guLi in Konkani.
While rolling, apply some coconut oil to the balls and then roll. Roll these into papads. The kids would roll them into small discs called hapli .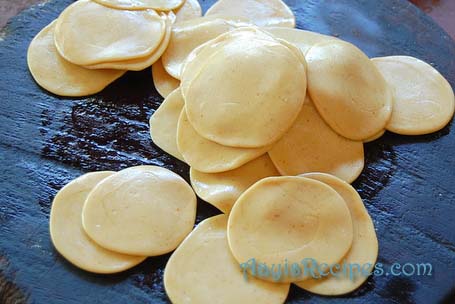 Then the elders would take hapli and make into big papads. This was to take help from kids, but at the same time, keep all the papads in same size, thickness and shape. To help in rolling, loose dry flour can be used).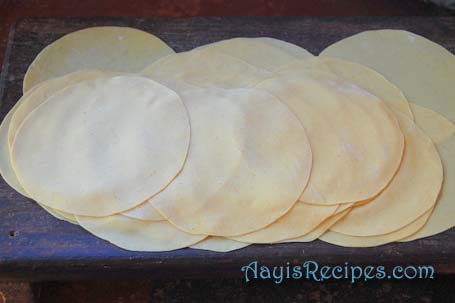 Dry them under the hot sun. Store them in airtight container.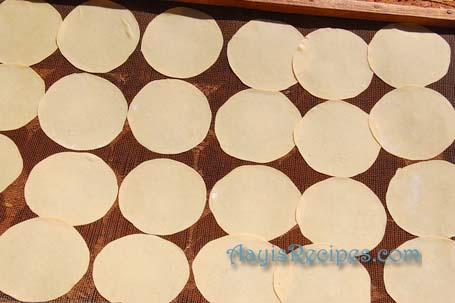 Makes about 450 papads