Kando or piyyav are the Konkani names for onion and EeruLLi/NeeruLLi is the Kannada name for it. I didn't know much about this vadi before this comment from my dear reader Purnima. Luckily, aayi knew this recipe and she agreed to make it for me immediately. I say luckily because, this turned out to be one of the best vadis.
These vadis are made of rice, so they become super crispy and light when deep fried or microwaved. Loads of onion pieces are added to it, which give a very nice flavor and aroma to them. They are pretty easy to make and dry up very fast under hot sun. So in all, these were a big hit at home, a must try for all those onion overs.
Ingredients:
1 cup rice
4 cups water
1 cup finely chopped onion
3 tea spns chili powder
Salt
Method:
Soak rice overnight. Grind to a very smooth paste using enough water. Add remaining water (total should be min 4cups including the water used for grinding).
Heat the mixture with chili powder and salt on a medium flame till the paste is cooked.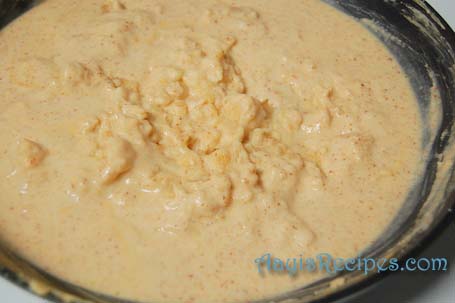 If required add more water. The batter should be of dosa batter consistency. Take off the heat.
Cool it to room temperature, the batter thickens when it cools down. Now add the chopped onion and mix well.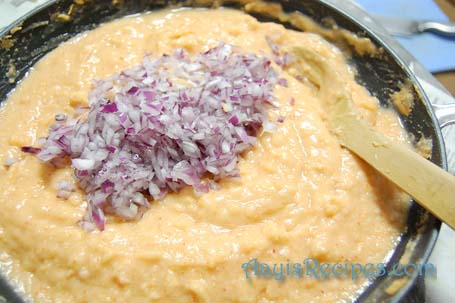 Mix 1 tea spn of oil in 1 cup water.
Spread a plastic paper under sun. Sprinkle a handful of oiled water on the paper and spread it. Now spread the vadis.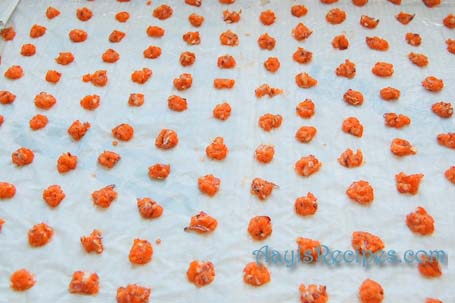 Dry them for 2-3 days until they are well dried and crispy. Cool down to room temperature and store in air tight container.
When required deep fry them in hot oil (or microwave in a single layer for 1min) and serve.PS: When these vadis are dried, they shrink considerably. So be very careful while adding salt. It is better to add less salt to the mixture than what you would have normally added.