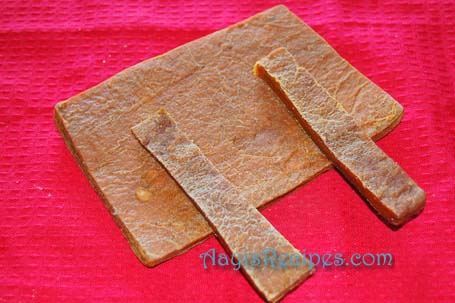 Ambe – mango, saTh(pronounced as saaTh) in Konkani or mambaLa in Kannada is one of the most popular ways of preserving mango pulp during season at our native. There are two types of people, one absolutely love this and the other can't stand it. I belong to first type. I can go on eating these forever without stopping.
We have many mango trees in our garden. Some of them have a very thick layer of pulp in them. These types are very suitable for this. I still remember my grandfather used to follow a very painful process of manually grinding the pulp and then taking to the field which is near our home to sun dry this. Now my parents do it but, they use the mixer to grind it and dry them on our house terrace which is newly built. So I have been eating this home made saTh throughout my life. I have tasted the ready made ones few times and absolutely hated them.
Jackfruit pulp is also preserved in a similar way, but I never developed a taste for it. My parents bought me batch of these which were prepared during this mango season. Its been a great help for me in office in between meals when I feel hungry. I just start eating one and go on till I finish the whole bunch I have taken that day :).
Ingredients:
Mango pulp
Pepper powder
Method:
Take out pulp from sweet and juicy mangoes. Slightly grind it to remove any lumps.
On a clean piece of cloth, spread a thin layer of this pulp and keep this cloth on a flat surface under the sun. (Do not attempt this on a cloudy day, it needs very bright and hot sun to dry this).
On day two, spread another layer of pulp on top of the first (on day 1, the pulp would have dried a bit).
Repeat this for around 4 days. Now carefully pull out the pulp off the cloth and put it upside down.
Now start putting the pulp on top for 2 days.
On the 7th day, mix pepper powder with the pulp and spread it.
On 8th day, spread a layer of only pulp on top.
Let it dry for 4-5 days then again turn it upside down. Let it dry for 4-5 more days. By now, it would have become totally dry and look like the one in picture.
Store in airtight container.
Cut it into desired sized and shaped pieces. Eat it as it is, or some people also use it to make some dishes. I have never tried cooking it. I love it as it is.
It remains good for about a year.