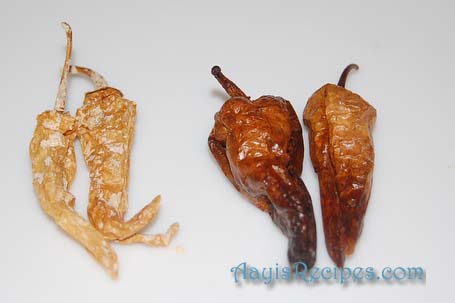 Whole green chilies are one of the constituents of many North Karnataka meals. It is usually served with Jolad rotti or sajjige rotti. Many times it is replaced with mirchi bajji – green chilies dipped in gram flour mixture and deep fried. In the Karavali (coastal) belt of Karnataka, usually this taaka mirsang(Konkani) or majjige menasu (Kannada) – green chilies soaked in buttermilk(taak /majjige), sun dried and then deep fried, are very popular. Most of the Konkani functions include this along with other deep fried sun dried items like papads, fritters(vadis) etc. These chilies are very popular in other parts of South India too.
I usually make a huge batch of these chilies every year.  I use a local variety called as Gokarn chillies which are light green, plump. The light green ones are mild and dark green ones are more spicy. I usually select the ones with medium heat. They are usually available after rainy season – from December onwards.
Traditionally these are deep fried in hot oil. Many people avoid eating these chilies due to this. My grandmother used to shallow fry them in a little ghee on a low flame. This requires only a little oil/ghee. Ghee gives a very nice aroma, this is feasible only when a small quantity of chillies are needed.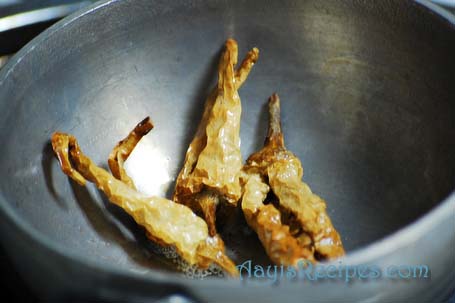 At my home, everyone likes to eat it with plain curd and rice. It gives nice spice and taste to bland curd rice.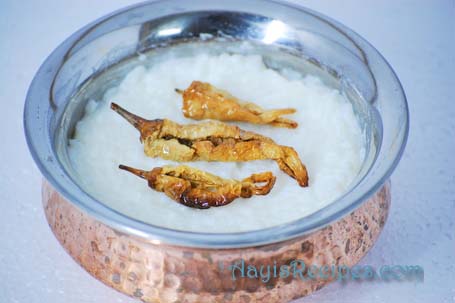 We have two methods of making taaka mirsang. In both, some additional flavoring is used which gives a very nice aroma to the chillies. Infact there is a third method in which these additional flavorings are not added. In method-1, some spices are added to the buttermilk and then the chillies are soaked in them. In method-2, chillies are soaked in plain buttermilk(with salt) dried and then the ground spices are applied to them. Both have their own taste. I usually follow method-1 as the chillies prepared with method-2 do not remain tasty for a long time.
Ingredients:
1 kg green chilies
1 liter buttermilk
6-7 tea spns salt (depends on the kind of salt used, so be careful while adding it)
Preparing chillies:
Wash the chillies. Trim the stem(thottu) into half. Put a deep cut into chillies taking care not to slit them completely.
Method-1:
Make a powder from 2 tea spns cumin seeds, 1/2 tea spn fenugreek seeds, 1/4 tea spn asafoetida. Add this powder and salt to the buttermilk. Immerse the chillies in this buttermilk overnight and next day, take out the chillies and dry them under hot sun.Do not discard the buttermilk.
In the evening, put them back in the same buttermilk. Next day, dry them again. Repeat this procedure for about 4-5 days. By this time, all the buttermilk is soaked by the chillies and the spices give a very nice aroma to it. Once all buttermilk has been done, dry the chillies for 3-4 days more till they are completely dried and become crispy. Store in airtight container after they have cooled to room temperature.
Method-2:
Immerse the chilies in buttermilk with salt. (No spices added at this stage). Continue soaking and sun drying them as above till all the buttermilk is done.
Soak 6 tea spns of urad dal and 1 tea spn fenugreek seeds in water for an hour. Grind them to a smooth paste. Smear this paste on the chillies and sun dry for 3-4 days more.
Serving:
While serving, deep fry them in hot oil or shallow fry in ghee/oil and serve. These fried chillies remain good for 5-6 days in air tight containers.
Pictorial:
Chillies slitted ready to soak in buttermilk
Chillies after drying for 3 days and soaked in buttermilk, ready to be dried again
After all the buttermilk has been soaked, ready for 3 days of continuous drying