This is one of the most popular sun dried items among Konkanis (after papad). All these days, I had thought it is specific to Konkani(and Kannada) cuisine, but then I saw Mythili's ash gourd fritters. After that I saw these fritters in many different places and it looks like everyone has their own version of these fritters.
When we were growing up, aayi used to make this every year. I used to help her spread these sometimes. It always looked like a time consuming and difficult task to me. Since we have a big front-yard, we used to make these in a bulk. Once prepared, these remain good for around a year.
These vadis/odis are either deep fried and eaten or they can be used in many different dishes. At my home, these are mostly used in different dishes. I will post these dishes soon. My husband is a great fan of these dishes, so I always have a big batch with me. But unfortunately when we came to US last year, I forgot to get it and I can't say how much I missed it. So aayi sent a big batch with my brother last month and again when they came, they got one more batch. Then I got the idea of making it here, so now, I have all the stock that can last for one year (may be).
Ingredients:
1 cup urad dal
1 cup grated ash gourd(kuvaLe)
2 tea spn chili powder
1/2 tea spn asafoetida powder
Salt
Method:
Soak urad dal in water overnight.
Grate the ash gourd and put it in colander to remove any water from it (reserve this water, it is used later for grinding).
Grind the dal with reserved water to a very smooth paste(preferably, don't use any other water). Now add asafoetida, chili powder and grind again. The mixture should not be too watery.
Take out the paste and add the ash gourd pieces(if these have too much water in them, the paste becomes watery. So make sure to squeeze off any water from them).
Mix salt. After salt is added, spread them immediately under the sun. If these are kept for long, the mix becomes watery.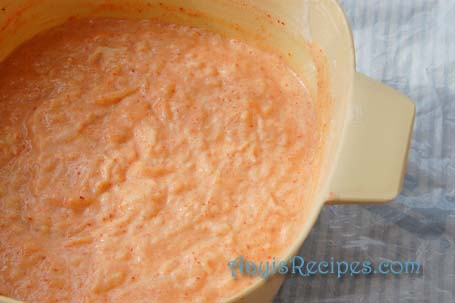 In a cup of water, add about 1/2 tea spn oil.
Spread a plastic paper under sun. Now spread a handful of oiled water on the paper(this helps in taking out vadis easily).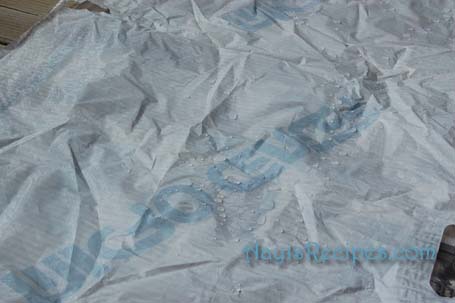 Now spread the vadis as shown below. Make sure to leave enough space between two, they spread a bit after sometime.
After drying it for 2-3 days, vadis come off the paper easily. If not, remove them and dry again till they become very crispy. Cool them to room temperature and store in air tight container.