We are pizza fans,  instead of going out and eating pizzas, I have started making them at home frequently. I make the pizza dough with one pack yeast (with recipe given below), use half of it and freeze remaining half. So we have pizzas once in a week or two. Making everything at home gives me enough options to customize it the way I want. I usually completely skip cheese. Sometimes I use marinated paneer as topping, sometimes I use basil pesto instead of traditional tomato pizza sauce.
Last week, when I wanted to make something different, I thought about calzone. I have been thinking about making them for so long, but somehow never did. I made a spicy stuffing with loads of vegetables. Unlike the traditional stuffing where cheese is normally used along with other stuff, I left out cheese. These came out so delicious. V kept asking why I had not tried them before. They were like baked cousins of samosas. I will be making these more frequently with different stuffing.

Pizza dough:
1 pack active dry yeast
1 and 1/2 cups whole wheat flour (or atta)
2 cups all purpose flour (or maida)
1/2 tea spn dried oregano
1 tea spn brown sugar or honey
1/2 cup milk
1/2 cup water
1/4 cup olive oil
1 tbl spn butter
1 egg (optional, use water
Salt
Method:
Heat the water till it is lukewarm (I just microwave it for 15 secs), ie, till it is warm to touch.
Add sugar or honey to water and add the yeast. Keep is aside for about 5-10mins till the water becomes frothy (indicating the yeast it active).
Now add all other ingredients and mix well. Once it becomes a dough, knead the dough very well for 8-10mins. I make the dough in my KitchenAid stand mixer with dough hook.
Apply some olive oil to a big bowl and keep the dough in it covered.
Leave it in a warm place for 2-3 hrs till the dough doubles in volume.
Now use the dough to make pizza.
Spicy Stuffing:
2 cups vegetables (celery, carrots, peas, onions, corn, broccoli)
1/4 cup chopped tomato
1 tea spn dried fenugreek leaves (kasuri methi)
1/2 tea spn chilli powder
1/2 tea spn garam masala
A pinch turmeric
1 tea spn chopped garlic
Oil
Salt
Method: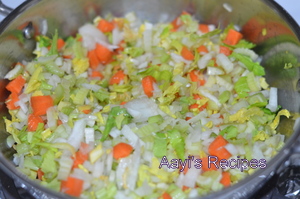 Heat oil and fry garlic. Then add onion, celery, carrots. Fry for few minutes.


Add chilli powder, turmeric, garam masala and fry.
Add tomatoes, salt, mix and let it cook till the mixture is dry.


Now add remaining vegetables – peas, corn, broccoli. Cover and let it cook on a medium low flame. When all vegetables are cooked, take the kasuri methi on the palm and slightly crush with fingers and add to the vegetables. Mix well.

Assembling :
Preheat the oven at 400F for 10mins.


Take small balls of dough and roll them into 1/4 inch circles.
Keep 2 tbl spn of stuffing on one half and fold the other half on top like a moon. Press the edges to seal.
Brush the top with water (which gives the color when baked), sprinkle a little salt and chili flakes(optional).


Bake in 400F oven for about 15mins or till the top is golden brown. (I opened the oven at around 10mins and brushed the tops with water once again and kept them back).
Then I turned them upside down, brushed the other side with water and baked again for 5mins just to make sure they got crispy from other side too (this is optional step).
Brush the top with a little olive oil for some extra taste. Serve hot.
I used half of the dough which made 5 calzones.
PS: – This is just a method more than a recipe. Experiment with different stuffing and any store bought/homemade pizza dough.
– The stuffing was so tasty, I served the left overs with chapatis next day. It will go well with any bread, naan, rotis, chapatis or simple curd rice.
– Serve them hot right out of oven for best results.
– Make sure the stuffing is very dry. Any moisture in it would soak the dough.
– Make them smaller and serve as starters at parties, they will surely win many hearts.
– Above dough recipe can be used to make pizzas. It makes delicious and soft pizza base.