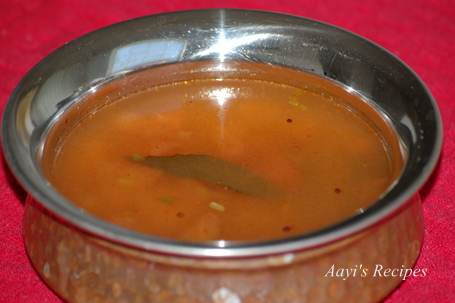 Hope you all had a great vacation. I could not post anything here for last few months, but hopefully I can post something once in a while.
Rasam is very common in South Indian meals. Usually it is very watery and does not have any vegetables like sambar which is thick and has vegetables. Rasams can be made with tomatoes, lemons, peppercorns etc.
The powder can be made in advance and saved or made at the time of preparing rasam. Usually for this rasam, only the water used for cooking toor dal is used (dal can be used for some other dish). Since we like to eat it with rice and I add very little toor dal to it. I make it little spicy. It is very suitable for a cold weather and also when you are suffering with a sore throat or runny nose.
Rasam Powder:
1/2 cup (30gms approx) coriander seeds
1/8 cup (30gms approx) chana dal
3 tbl spn (30gms approx) red chilli powder
1 tbl spn (10gms approx) pepper (for better result, use white pepper)
Method:
Dry roast coriander seeds, chana dal, pepper till a nice aroma comes out. Switch off the heat and add chilli powder. Keep mixing taking care not to burn anything. Cool to room temperature and grind to a smooth powder. Store in an air tight container.
Rasam:
2 tbl spn toor dal(optional)
1 cup chopped tomatoes
3 cups(approx) water
1 and 1/2 tea spn rasam powder
1/2 tea spn mustard seeds
4-5 curry leaves
A pinch asafoetida
1/2 tea spn tamarind extract
4-5 strands coriander leaves finely chopped
Oil
Salt
Method:
Pressure cook toor dal in water and mash it very well, add water (or just use 3 cups of water that is used to cook dal and leave out dal).
Add tomatoes to the dal water and bring it to boil. Add tamarind, salt. Cook till tomatoes are cooked. Add rasam powder. (If required, add extra chilli powder, as we already have chilli powder in rasam powder, I don't add it again). Add coriander leaves, take off the heat.
Heat a little oil in a small pan and add mustard seeds. When they start popping, add curry leaves, asafortida. Pour this seasoning over rasam.
Serve hot.
Serves : 2-3
Preparation time : 20mins