Cholko – A piece of leaf. Usually a piece of banana leaf is called 'cholko' in Konkani.
Vayli – on top of
'Cholkya vayli bhakri' or 'cholkya bhakri' means a rotti prepared on banana leaf. I have no such explanation for the name 'mumbri' :).
As I mentioned here, this is one of my favorite breakfasts. Aayi serves this rotti with chutney pitto-ghee or vaygana bajji or 'dhidir chutney' (Mix 1/2 cup grated coconut with 3/4 tea spn chili powder, 1/2 tea spn sugar and salt. Mix well with hand) or coconut chutney. My personal preference is Mumbri with Vaygana bajji and dhidir chutney.
I have seen sweet bhakri also where this dish is prepared with jack fruit. I loved the simple non-sweet version among all.
In the last 9 months, I searched every possible store here for banana leaves. But last week when I found a frozen packet in Chinese store here, I immediately grabbed it and prepared my favorite breakfast. It tasted heavenly. I do not think any paper(like parchment paper) can replace the banana leaf, because banana leaf leaves a nice aroma when it is fried.
All the pictures for this post were taken at my native.
Ingredients:
1 cup rice flour
1/2 cup coconut(fresh or frozen)
1/4 cup onion(optional)
Ghee
Salt
I did not use onion while taking the picture.
Method:
Mix all the ingredients into a soft dough with water (do not make it too hard, there should be some water to make spreading easier).
Take a piece of banana leaf. Spread a thin layer of dough on it(use a little water if it is difficult to spread).
Cover with a banana leaf of same size.
Heat tava and fry the roti. When the bottom side leaf looks a bit brownish, turn over(along with the leaf).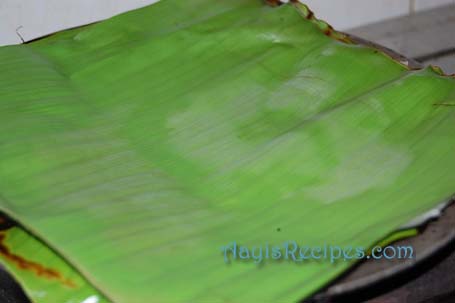 Remove the brownish leaf slowly and discard. Again turn and remove the second leaf. Fry on both sides(without leaf). Apply ghee if desired.
Serve hot with any of the above mentioned sides.
Serves : 2-3
Preparation time : 15mins
Note: The softness of this rotti depends largely on rice flour. In Bangalore, I had tried it many times and always felt it was not up to the mark. At my native, Aayi's version is always very soft. Then she told me the flour which I bought in Bangalore was not very fine. With same proportions I tried here and it was superb. So make sure to use very fine rice flour.