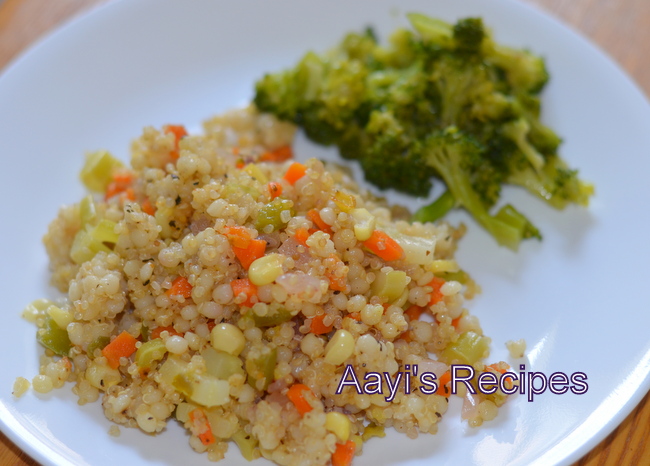 I was introduced to quinoa about 4 years ago. Some of my ex-colleagues talked about it all the time. Although I was intrigued, I had no interest in trying it. Then a day came when we were advised to reduce all kinds of starchy carbs. Our doctor told us to stop eating white rice and move to brown rice if we wanted. I started looking for things that would replace rice and I came across quinoa again. This time, I wanted to give it a try.
Read more about quinoa on Wiki. It has a slight bitter taste, which although reduces when you wash it few times before using, does not completely go away. We somehow could not develop a liking for it. Since it is full of protein, I started making dishes with lots of vegetables and quinoa. Our favorite has to be this lemony quinoa. Then one day V declared, he didn't want to eat quinoa anymore. I had a huge pack of it purchased from Costco and I wasn't going to give up so easily.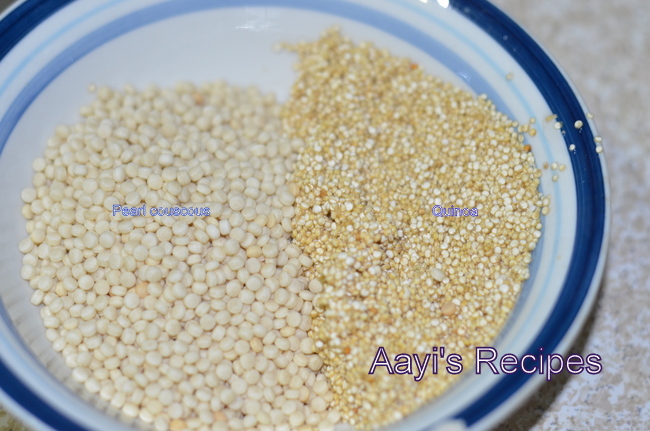 Then one day, I tried mixing quinoa with pearl couscous. The child loves these pearl shaped couscous (although he is not a fan of the tiny traditional couscous). The dish became a hit and now it is on the menu once a week atleast.
Quinoa - Pearl Couscous with Vegetables
Ingredients
3/4

cup

pearl couscous

1/2

cup

quinoa

2

and 1/2 cups vegetable broth or water

1

cup

vegetables - onion

carrot, corn, capsicum(bell pepper), celery

1/2

tea spn chopped jalapenos

optional or use red pepper flakes

1/4

tea spn each dried basil and oregano

1/2

tea spn lemon pepper seasoning or 1 tbl spn lemon juice

Olive oil and butter

Salt
Instructions
Wash quinoa in water a couple of times.

Bring vegetable broth to boil and add quinoa, couscous. Cover and let it cook till all liquid is absorbed. Take off the heat and let it cool. Now fluff them with a fork. Keep aside.

Heat little olive oil and butter (butter for extra taste) and add vegetables. Fry them for few minutes and then add jalapenos (or pepper flakes).

Now add cooked quinoa-couscous, lemon pepper or lemon juice, dried basil and/or oregano. Mix everything very well.

Serve hot.
Notes
PS: I add broccoli along with other vegetables sometimes or serve it with a side of steamed broccoli.
Instead of cooking quinoa-couscous separately, they can be added to vegetables, pour the broth over it and let it cook.