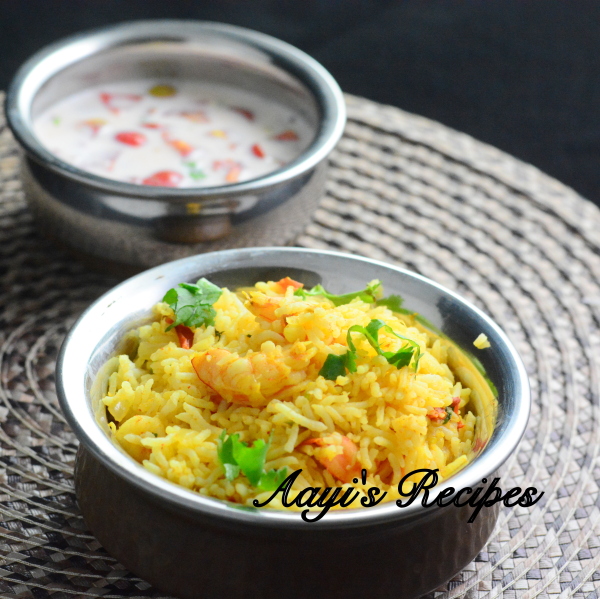 Few days back, one of my reader had requested for this recipe. So far I have tried making many types of prawn/fish pulavs. But I always loved this delicious prawn pulav from my Aayi. It is very simple to make, yet amazingly tasty. When we were kids, my brother and I always loved this. As we grew up, somehow this pulav was forgotten, though we still can feel the taste of green pulav, peas pulav. Few days back, when I was talking to her, she mentioned this. I was very hesitant to try it because of my previous experiences with not-so-great-tasting prawn pulavs. But now I am happy that I tried it. It is much easier to make and very tasty.
Pulavs are not very popular at my native. People do not consider them as a 'meal'. But aayi and my maternal grandmother made pulavs very frequently. We loved them then and we love them now.
Pictorial:
Heat oil and add onion, ginger, chillies. Then add spices.

Add tomatoes and cook till they are mushy. Add shrimp.

Add coriander leaves. Mix. Then add cooked rice and mix well.

Prawn Pulav (Sungta Pulav)
A simple very fragrant prawn pulav (pilaf) made with few spices and fresh coriander leaves.
Ingredients
15-20

prawns

shrimps

2

cups

basmati rice

3/4

cup

onion

chopped

3/4

cup

tomato

chopped

2-3

green chilies

2

" piece ginger

A pinch turmeric powder

1

tea spn coriander powder

3/4

tea spn chili powder

3-4

strands coriander leaves

Oil/ghee

Salt
Instructions
Cook rice (each grain should be separate. Pulav does not taste great when it becomes mushy).

Heat oil, fry onion, finely chopped (or grated) ginger till they turn slightly brownish.

Add chili powder, turmeric, coriander powder, chopped tomatoes, salt and fry for a 2-3mins.

Add prawns and cook till they are done (or cook prawns separately and add).

Take off from heat.

Add coriander leaves and mix well.

Add cooked rice mix well.

Serve hot.