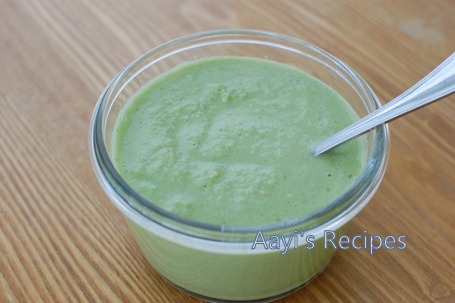 During the Christmas holidays last year, we were at a friend's place in CA. My friend Roopa pampered us with some awesome North Karnataka food (V loves North Karnataka dishes). I noted down some of the recipes, but never got to post them. This is one of those recipes. She served this with wheat flour dosas. It was such a great combination.
Check out another version of coriander chutney here.
Ingredients:
1/2 cup fresh/frozen coconut
1/4 cup chana dalia (hurigadale/putani)
1 tea spn cumin seeds
4-5 green chillies
1/4 cup coriander leaves (use along with stems)
5-6 mint(pudina) leaves (optional)
1 tea spn garlic (optional)
2 tea spn ginger
1 tbl spn lemon juice
Salt
Method:
Grind all of the above ingredients to a chutney consistency. (I usually don't have mint in the fridge, so I didn't use it when I made. I don't use garlic in the mornings, so did not use that too). Serve.
Serves : 4-5
Preparation time : 15mins
Pictorial: