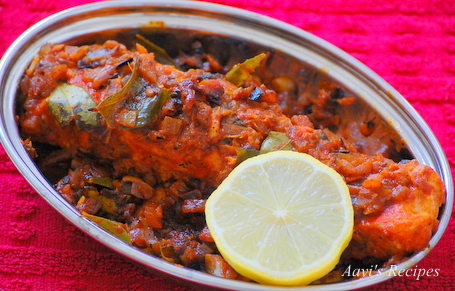 It has been a very long time we ate any fish. So last weekend, I bought a beautiful salmon piece. I normally stay away from this fish due to its strong smell. If at all I buy it, my favorite dish to make is Sig's Roasted Salmon Steaks with on a bed of potatoes, leeks and fennel. I have tried this so many times now and this alone makes a filling meal. Thanks Sig for a lovely recipe.
This time though, I wanted to try something different. I also wanted it to be a simple recipe. It came out extremely delicious. Curry leaves give a very nice flavor and aroma to the fish, which covers up salmon smell. I used very simple spices that we use for fish fry.
Ingredients:
1 salmon fillet (about 6oz piece)
1 tea spn fresh ginger paste
1 tea spn fresh garlic paste
1 tea spn red chilli powder
7-8 curry leaves
1/2 cup onion
1/2 tea spn tamarind extract
Oil
Salt
Method:
Wash salmon. Apply ginger-garlic, red chilli powder and salt to the fish. (I put everything in a ziploc bag and shake it till the fish is coated well with the spices). Keep it refrigerated for atleast an hour.
Heat oil and add finely chopped onion. Fry till they turn brownish. Add tamarind extract and a little salt (the fish has salt, so add only a little).
Keep the salmon piece on the onions. Add the curry leaves. If required add 1-2 tea spns water. With a spoon, take out some of the onion mixture and put it on salmon piece so that fish absorbs all flavor. Cover and cook.l done. After few minutes very gently turn the fish (only if required).
Serve hot with lemon wedges.
Serves : 1
Preparation time : 20mins