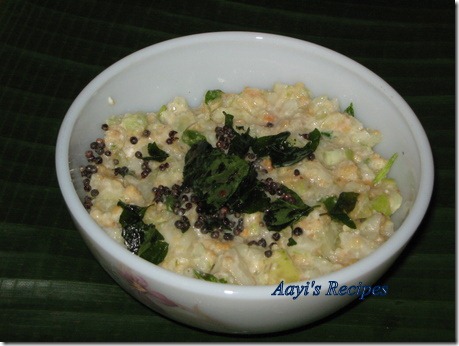 Raw uncooked vegetables in the form of kosambaris are liked by many people. We make many different kinds of kosambaris – cabbage, carrot, moong dal to name a few. One more addition to this is cucumber kosambari. I saw this in one of the magazines and tried at home. I make this regularly now as my husband and I both liked it. This can be made with or without yogurt.
Ingredients:
1Â  cup tender cucumber pieces(finely chopped)
3/4 cup coarse roasted peanut powder
2Â  tea spn green chilli pieces
2Â  tbl spn curds/yogurt (optional ) or 1 tea spn lemon juice
Salt
2-3 tea spn chopped coriander leaves
For Seasoning – Ghee, mustard seeds, asafoetida and curry leaves
Method:
Crush the green chilli pieces with salt and add to finely chopped cucumber pieces. While serving, add peanut powder. Add curds or lemon juice to it. Sprinkle coriander leaves over
it. Season it with ghee, mustard seeds, a pinch of asafoetida and curry leaves. Serve as a sidedish with rice.
Serves : 2-3
Preparation time : 15mins
Pictorial: