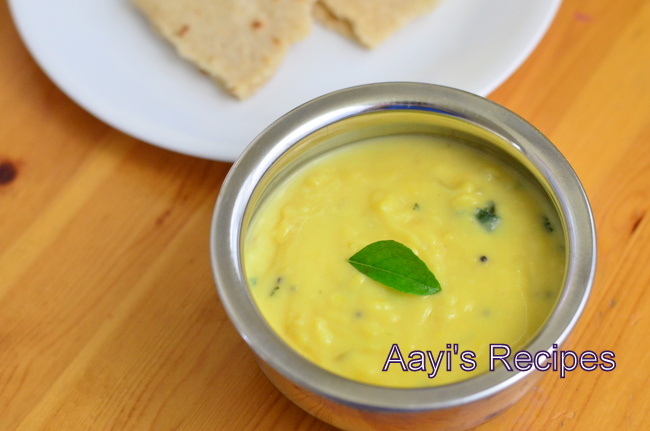 Zunka is a popular Maharashtrian dish and it is also very popular in Karnataka-Maharashtra border area. Though I got exposed to several dishes when I was studying at Belgaum, this Zunka is something I could never appreciate till I got married !! The dryer version of Zunka has a texture and husky smell of Chickpeas flour(Besan) which kept me away from this.
The credit of making me like this dish goes to Rashmi, my wife. When she decided to prepare this for first time, I remember telling her, there are very few dishes on earth that I don't like and Zunka is definitely one of them. However my opinion got changed when I tried this 'watery version' of Zunka. The texture and taste of this is quite different from traditional thick one and perhaps that results in a different appeal. But please note that thicker version is more popular and if you visit restaurant and order for this, you are most likely to get the traditional one(and this is not that version).
Ingredients:
4 tbl spns besan (bengal gram flour)
1 cup chopped onions
½ cup grated coconut
1 tea spn mustard seeds (rai/sarson)
1 tea spn cumin seeds (jeera)
A pinch of asafoetida (hing)
5 slit green chillies
1/2 tea spn turmeric powder (haldi)
2 tbl spn coconut oil(or olive oil or any other oil)
Few curry leaves
Salt and water to taste
Method:


Mix besan in half cup of water and stir to ensure no lumps are formed and keep it aside(Most important step to get consistency and uniform taste).


Heat oil in a thick bottomed vessel, add mustard seeds.
When they start spluttering, add asafoetida, curry leaves, pinch of turmeric powder and green chillies. You may add 1 tsp of crushed ginger(not added in pictures) and jeera and fry for a minute.
Add onion and fry till it becomes translucent stirring occasionally.
Mix earlier dissolved Besan to this.
While stirring, add a cup of more water. This is desired to get right texture and especially if you don't like smell of Besan flour.
Add salt as desired. Add grated coconut.


Bring it to boil and keep stirring till gravy thickens. Do not attempt to dry out additional water. The real skill and perfection of this dish lies here.
Serve hot with rice or jawaar or baajra rotis. Pictures shown here are with rice rotis.
This dish has to be spicy and milder version may not go well with rotis.
PS: There are various other versions of this in terms of ingredients and texture. You may use red chilli powder instead of green chillies or along with them. You may add crushed garlic. Instead of opting for semi-gravy texture, you may go for thick paste.
Serves : 2-3
Preparation time : 20mins
Update: Thanks to comments from readers. I have updated post to bring in more clarity between Zunka and its 'sibling' Pitla. In my family and amongst my relatives this version is known as Zunka. However I did cross check with some of my Marathi speaking relatives and they clarified that patal(thin) version of Zunka is known as Pitla. Since this is more of Maharashtrian dish, I would give due credits while naming. Hence I have updated the title as well.