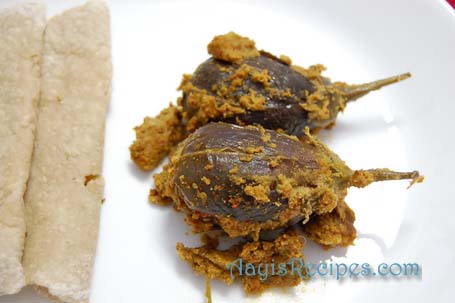 A few days back, one of my reader, Suma left a comment saying, "Just one request..can you post recipe of brinjal curry dharwad style if possible, i tasted it back in India & it was mouth watering!!". So here I am with this delicious dish.
I have seen 'N' number of ways of making ennegayi. I have atleast 4-5 recipes of this dish. But I thought the best way to have the authentic recipe would be to ask any Lingayat friends, because they are the experts in making this dish. This recipe is from my friend Smitha's mother. I had collected it 1 year back. On Suma's request, I prepared it again and as always, I fell in love with it.
Ingredients:
7 small round eggplants(brinjals)
1/2 cup onion
1/2 tea spn very thick tamarind extract
1 tea spn jaggery
1 tea spn chopped garlic
1/2 cup fresh/frozen coconut
1/2 cup ground nuts(peanuts)
1 tea spn garam masala
4-5 red chillies
1 strand curry leaves
2-3 strands coriander leaves
1 tbl spn oil
Salt
Instead of ground nut(peanut), sesame seeds or gurellu/huchchellu(which is probably available only in India, while searching for this on the net, I got this) can be used.
Method:
Heat 1 tea spn of oil and fry onions till they turn translucent. Now add curry leaves, garlic, peanuts, red chillies and coconut. Fry for some time. Grind this with all other ingredients ( except brinjal and oil) to paste without adding water (if required, add very little water).
Put 4 slits in the brinjal keeping the stems intact. Stuff the ground masala in them.
Heat oil in a non stick pan. Add the brinjals, pour the remaining masala on top and fry for some time. Now add 1/2 cup water and cover the lid.
Cook on a very low flame till brinjals are completely done (it takes around 20-25mins).
Serve hot with Jowar roti/Jolad rotti.
Serves : 3
Preparation time : 40min