This is a recipe from my friend Aruna. She asked me for this recipe about 1 year ago, but I had no luck finding it. At my native, chow chow means a kind of spicy crunchy mixture. So I was a bit surprised when she said it is made of vegetables. I think in Tamil, chow-chow means chayote squash. Do not confuse this dish with any of these.
Aruna finally got it from her MIL and passed on to me. She said it is a specialty from Honnavar. The dish is basically a beans-carrot-potatoes cooked with a spicy, tangy mixture which is similar to pickle masala. It tastes great as a side dish with rice and simple dal.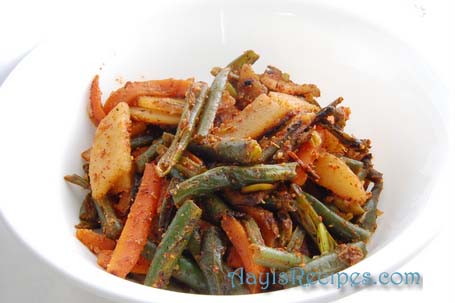 Ingredients:
1/2 cup carrots chopped into strips
1/2 cup green beans chopped into strips
1/2 cup potatoes chopped into strips
1/2 tea spn mustard seeds
1/4 tea spn fenugreek seeds
3-4 red chilies
A pinch asafoetida
1/4 tea spn turmeric
1/8 tea spn pepper
1/4 tea spn tamarind extract or 2 pieces of tamarind
Oil
Salt
Method:
Heat a little oil and fry mustard, fenugreek, asafoetida, pepper, red chilies. Make sure not to burn any. Grind it to a paste along with tamarind, turmeric.
Heat oil and add veggies. Fry for few minutes. Close the lid and let it cook on medium heat (do not add water).
When the veggies are almost cooked, add the paste, salt. Cover the lid and cook till done.
Serves : 3-4
Preparation time : 20mins
Updated: According to original recipe, while making the paste, add a little water so that the dish gets a little gravy(like pickle with oil). I just changed a bit to make it very dry.