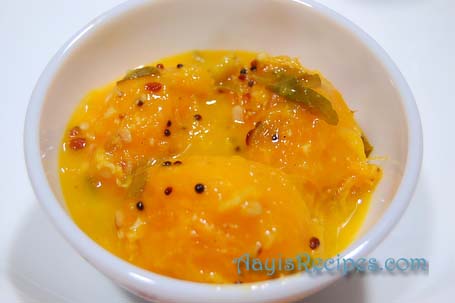 Ambe (mangoes) must be one of the most loved fruit during summer in India. Konkanis make many different dishes with it. One such dish which has a distinct Konkani stamp on it is Ambe humaNe or ambe upkari.
There are many varieties of mangoes grown at our native which are not known to other parts of India. Most of these types are local (ganvti). Usually these mangoes are very sweet and have lot of pulp. They cannot be cut with a knife(these varieties are called "ghonta" in Konkani) because they have quite big seed(gorto) in them. So eating them is a messy business, but who cares when it tastes out of the world. The smallest variety among such type of mangoes is used for this dish. It is a spicy and sweet dish. Many times, over ripe or not-so-sweet mangoes are used because the addition of jaggery and green chilies, gives them a unique taste. It is a very common dish during mango season.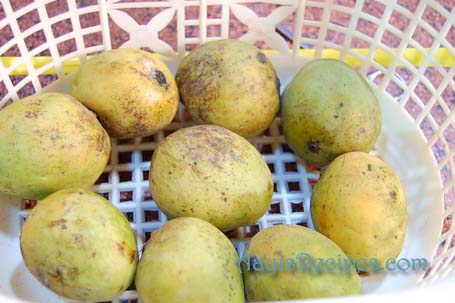 It is a bit tricky to eat this, and I think, the best way is to use your hands. The mango juices absorb all the flavors from the seasoning and it turns into an amalgamation of myriad tastes. Beause these small mangoes are not available here in US, I use mango pieces when I make this here. It tastes great too. But if you ask a Konkani person, we would say, humaNe should be made with these small mangoes and if you make it without them, then it is not called humaNe :).
Ingredients:
7-8 small mangoes
4-5 green chilies
4-5 curry leaves
1 tbl spn fresh/frozen coconut
1/2 tea spn mustard seeds
1/2 tea spn urad dal
1 tea spn jaggery (optional)
Oil
Salt
Method:
Peel the skin of all mangoes. Usually these mangoes have a very thin skin and they come out easily.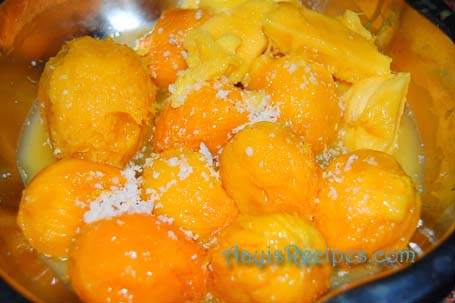 Heat a little oil and add mustard seeds. When they start popping, add urad dal. Add curry leaves, green chilies slitted into two. Now add the mangoes, jaggery, salt, half cup water (if there is not enough juice in mangoes), coconut. Close the lid and cook for 5-6 mins. This helps the mangoes absorb all the flavors and thicken the juices.
Serve hot as a side dish with rice and some spicy gravy.
Serves : 3-4
Preparation time : 15mins