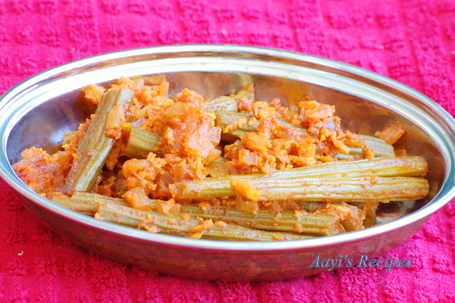 Sukke(Konkani) translates to dry. Sukke is a type of dry sidedish with coconut. Some times, it has a coconut paste and sometimes it has grated coconut.
Maskasangi – drumstick sukke is a very simple and delicious dish. V's grandmother shared this with me during my last India visit. I tried it with frozen drumsticks and it turned out delicious. Rice, a simple dal and this sidedish, you can literally get a delicious dinner on the table in no time. It tastes great when it is made quite spicy – since this dish gets some sweetness from onions, use a little more red chilli powder.
Ingredients:
2 cups drumsticks
1/4 cup chopped onion
1 tea spn red chilli powder
1 tbl spn grated fresh/frozen coconut
1/4 tamarind extract
A pinch turmeric
Oil
Salt
Method:
Heat oil and fry onion till it is translucent (do not brown the onions).
Add turmeric, red chilli powder.
Add the drumstick pieces, tamarind extract, salt, a little water(about 1-2 tbl spns). Cover and cook till done.
Now add the coconut and mix well, cook for 1-2mins.
Serve hot.
Serves : 2
Preparation time: 20mins