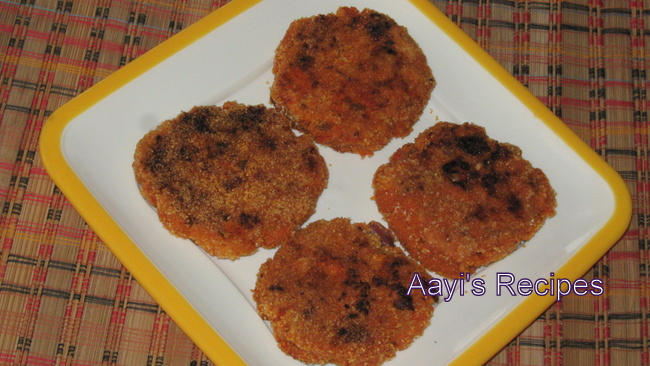 There is a very beautiful river very close to our home, this means we get very fresh seafood. Most of the times the shrimp we get here are alive when we bring them home. One of our favorite dishes to make with these shirmp is this vada. Use small or medium sized shrimp for this. If you do not find them, cut the large ones into small pieces. Serve them hot when they are still hot and crisp.
Ingredients:
3/4 cup shrimp
1/2 cup fresh/frozen coconut
1/4 cup finely chopped onion
1 tea spn coriander seeds
1/4 tea spn tamarind extract (or 2 pieces of tamarind)
3-4 red chilies
1 cup sooji/rava
Oil
Salt
Method:


Heat little oil and fry coriander seeds. Grind them with coconut, red chilies, tamarind, salt without adding too much water.


To this paste, add shrimp and onions.
Mix all together and make balls. Roll the balls in rava/sooji, slightly press them with hand and shallow fry on tava. Serve with rice as a side dish.
Serves : 3-4
Preparation time : 25mins