Nonche(Konkani) is pickle. Ambli(Konkani) is unripe mango. This is a special chutney prepared using the salted unripe mangoes. During mango season, unripe mangoes which do not have very hard seed are put in big Bharnis(Ceramic jars – used to store pickles) and lot of salt is put on top of them. On top of this, two big stones are kept for weight. Then the top of this jars-usually called as mouth of the jars, are tied along with the lid with a cloth to seal the lid. These jars are left in the dark corners of the house for months. These jars are opened and the mangoes are taken out during non-mango-seasons. These are usually called as "MeeTa(Salt) ambli or Udka(water) ambli or Noncha ambli". The salted mangoes are eaten as it is or used in many dishes. Usually these are served along with water to the servants. These mangoes and a glass of water leaves a long lasting flavor in the mouth :).
Among all dishes prepared with these salted mangoes, my favorite is this sasam/chutney. This is usually served the rice congee('Pej' – Konkani) in between breakfast and lunch at around 11AM. I keep making Congee here, but never made sasam. My supply of these salted mangoes comes from my mother. I used to get few salted mangoes from native and store them in refrigerator. Now I can't tell how much I am missing this dish. This sasam has a salty-spicy-sour taste. I have not seen such small unripe mangoes here in US.
Last week when my parents went to Bangalore to visit my brother and SIL, I asked them to prepare this and take pictures. They all made sure to do this and take pictures during their busy schedule in Bangalore. I am posting this recipe here for future reference.
Ingredients:
3 salted mangoes
1 cup grated coconut(fresh/frozen)
3-4 green chilies
A pinch of asafoetida
Method: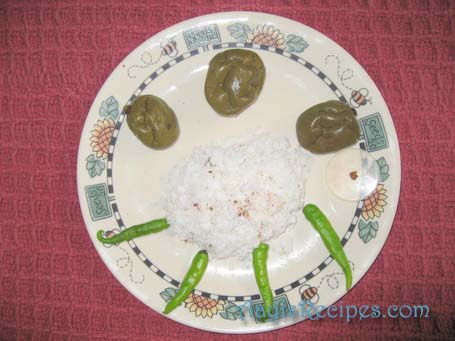 Soak the mangoes in water for sometime to remove the excess salt. Discard the water. Grind coconut with green chilies and asafoetida to a smooth paste without adding much water. Now add mangoes and grind (the mangoes need not become a smooth paste. Some small pieces of mangoes make this dish more tasty). Mangoes already have salt, so no need to add salt again.
Serve with Congee(Pej) or rice.
Serves : 3-4
Preparation time : 5mins