We make a variety of coconut based sasam(a chutney like dish with mustard) or bharth (a chutney like dish with cooked/smoked vegetables). This dish is called as ghosale(ridge gourd) sasam by some and bharth by some. So I thought of mentioning both names. A quick and very delicious dish.
This is usually served with spicy papads. Some people like to eat it as side dish – by dipping the papad in this chutney and eat. Some people eat it as a gravy with rice.
Ingredients:
2 cups ridge gourd(gosale) pieces
3 green chillies
1/2 cup coconut
1 tea spn mustard seeds
A pinch asafoetida
Oil
1/4 tea spn tamarind
Salt
Method:
Put a small slit on the green chillies and hold it directly on the gas flame till the skin of it darkens a bit (we normally put it on hot charcoal to smoke it). Putting the slit is very important because when whole chillies are fried (directly on flame or any other way), they pop up and can cause serious burns.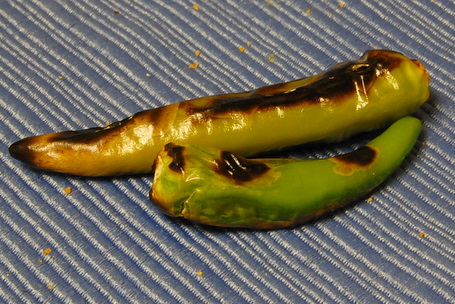 Heat oil and add mustard seeds, asafoetida. When they start popping, add ridge gourd pieces, 1/4 cup water, cover the lid and cook till the pieces are done. Cool to room temperature.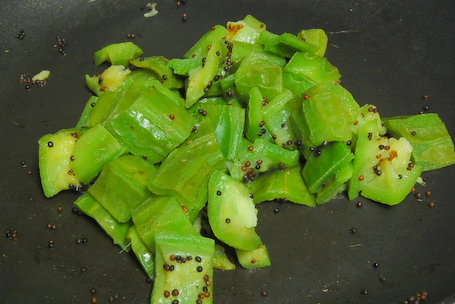 Grind coconut, green chillies, tamarind and salt to a smooth paste, if required, add water used to cook the ridge gourd. At the end, add the cooked ridge gourd pieces and grind again for 2-3 rounds. Do not let the pieces become a complete paste.
Serve with papad and rice.
Serves : 2-3
Preparation time : 20mins.