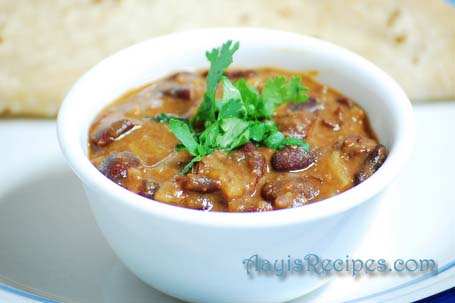 At my home, I think I am the only one who loves rajma. I had this for the first time in Belgaum and ever since then, I have been a big fan. I saw two of my friends, who were from Delhi, make a very creamy and tasty rajma. I tried exact same recipe, I was never able to get the same consistency. I think it is because I never have patience to fry the onions and tomato paste well and I don't use ready made puree. Then my dear friends Anita and Bee posted their versions of rajma which made me drool.
Then one day, in a Kannada book, I saw rajma with yogurt and I wanted to give it a try. I didn't follow the recipe, but I just followed what I remembered from college days and also Anita and Bee's versions to make this. So the best thing about this recipe is, no tomato – that helps me because these days my fridge is almost always empty. I was bowled over by the taste of it, exactly like I love. The best part is V loves this (who by the way never liked to eat rajma before this). As I mentioned, this is not the authentic recipe, check the links for authentic ones, this is just something I love. Give this a try.
Ingredients:
1 cup red kidney beans(rajma)
1/2 cup onion
2/3 cup thick yogurt + 1 tea spn besan
3 cloves
1″ cinnamon
1 tea spn garam masala(optional)
1 green cardamom
1 tea spn chilli powder
A pinch turmeric
3-4 strands coriander leaves
Oil
Salt
Method:
Soak beans in water overnight and cook in pressure cooker till they are soft, but still retain their shape.
Heat a little oil and add cloves, cinnamon, cardamom, onion and fry till onion turns brownish. Then add chilli powder, turmeric powder, salt and fry for few minutes. Add yogurt, besan and cook on a medium low flame for 2-3mins.
Add cooked beans, garam masala and let it cook for about 10-15 mins till it thickens.
Garnish with coriander leaves and serve hot.
Serves : 3-4
Preparation time : 30mins (these beans take a long time to cook).
PS: Besan is optional. When yogurt it heated, the water seperates and it breaks. Besan avoids this, so I usually add it when I need to heat yogurt or buttermilk.