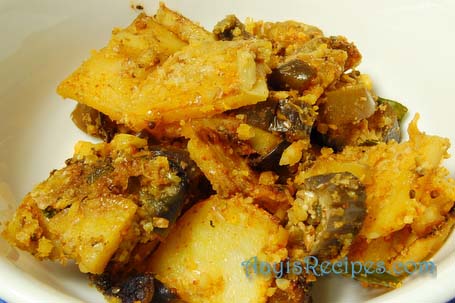 This is another quick fix dish that I have come to love. I am a fan of ennegayi which has a combination of eggplants and peanuts. But I had only the huge eggplant that we get in any grocery store here (and sometimes I am very lazy to do stuffing). So I made the normal stir fry with eggplants and potatoes and added crushed peanuts. It turned out very delicious. It has become a regular at our home for couple of months now.
It tastes great when made little spicy, so increase the chili powder if you can handle more spice. Fry for a bit longer to make the eggplants and potatoes crunchy.
Ingredients:
1 cup chopped eggplant
1 cup chopped potatoes
1/2 tea spn chili powder
1/2 tea spn mustard seeds
1/4 tea spn tamarind extract(optional)
5-6 curry leaves
1/2 cup peanuts
Oil
Salt
Method:
Roast peanuts and grind into a coarse powder.
Heat oil and add mustard seeds. When they start popping, add curry leaves.
Add eggplants, potatoes, salt and fry for 5-6mins. Now add chili powder, fry for sometime, close the lid and let it cook on a medium heat (do not add water). Add the tamarind if using and mix well.
Now add the peanut powder. Mix well. Serve hot.
Serves : 2-3
Preparation time : 20mins