Pathrado is one of my all time favourite dishes. I remember writing 'pathrado' in the 'favourite food' column of autograph books which were circulated during our college days (autograph books are little books having columns as name, address, phone number, favourite actor, favourite actress, favourite food etc etc. During my college days, everyone had a autograph book, those were circulated to all the friends during the final year. Those were funny 😀 ).
Pathrado is usually prepared using colocasia leaves usually grown in the garden during Monsoon. Few of these leaves are very very itchy. So one should be very careful while using these leaves. I am yet to master the skill of picking up the right leaves from the garden, if you are buying them in the market, don't worry about itchy leaves. The shop keepers/farmers would have selected the right ones :).
I have prepared the pathrado with Collard greens, (thanks Vee for that innovative idea), as colocasia leaves are not available here very frequently. I could find Collard greens at one store after searching for almost 2 months. Priya had blogged about 'alu wadi/pan wadi' a few days back.
Pathrode, rice and ankre tambli is the tastiest and very healthy combination I have ever had. I took these pictures are my native when my aayi prepared these delicious pathrade using the fresh leaves from our garden.
Ingredinets:
5 colocasia/collard greens
3/4 cup fresh/frozen coconut
1/4 cup toor dal
1 tbl spn rice
1 tea spn urad dal
1/2 tea spn coriander seeds
1 tea spn jaggery
4-5 red chillies
1/2 tea spn tamarind
A pinch asafoetida
Oil
Salt
Method:
Soak toor dal in water for about half an hour.
Heat oil and fry urad dal, asafoetida and coriander seeds. Grind them with coconut, rice, soaked dal, tamarind, jaggery, red chillies and salt without adding water (if required, add very little water).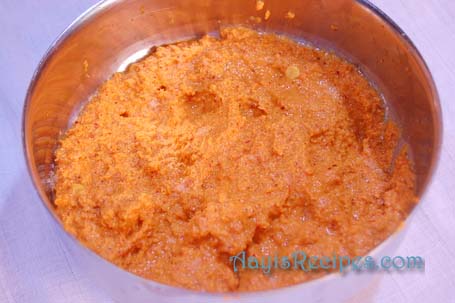 Remove the thick veins of the leaves.
With the help of pestle, slightly crush all the veins(this makes rollong and cooking easier).
Apply a layer of masala on the leaf. Keep another leaf on te first leaf and repeat till all the leaves have a masala coating on them.
Roll them.
Cut with a sharp knife to thin rounds and arrange them in a vessel (preferably use the vessels that comes with cooker).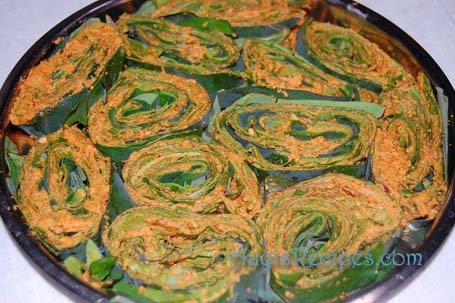 Steam them for around 15min. Leave cooker/steamer for another 10min before taking out the pathrado.
Serve with or without coconut oil.
Any left over pathrados are rolled in sooji/rava and fried on the tava (since they become a bit hard when refrigerated) before serving for the next meal, to make them soft and fresh.
Serves : 4
Preparation time : 50min