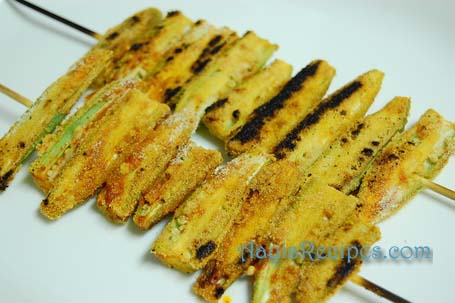 Phodis – vegetables spiced and rolled in rava(samolina) and shallow/deep fried, are very popular among Konkanis. We make these from most of the vegetables. Some examples can be found in rava fries – post. These come very handy when we want to make a very quick side dish. They are very delicious and fast to make.
We get small button mushrooms here during the first rain. These are wildly grown in forests. Some people go and pick the edible ones and sell. These naturally grown mushrooms have unique taste to them and whenever we find these, it is a big treat. My both children loved these mushrooms. One of the dishes I often prepared was mushroom (almbe) phodi. Since these are very small, frying them individually becomes a very time consuming task. So usually these are neatly arranged on sticks from coconut leaves and then fry them. This way, it is easy to fry and fun to eat for kids.
Last year when we visited US, I noticed that the mushrooms available there are too big. But the bhindis from Indian store were quite smaller in size. Since my son-in-law loves bhindis, I thought of making these for him. We used wooden skewers. They looked pretty and as usual, they were very tasty. Make sure not to make too few, because they disappear from plate in minutes and the demand would outgrow supply.
Ingredients:
2 cups small mushrooms or okra
1 cup rava(semolina)
A pinch asafoetida
1/4 tea spn tamarind extract
1 tea spn chilli powder
1 tbl spn rice flour (optional)
Oil
Salt
Method:
Apply salt, asafoetida, tamarind, chilli powder to the mushrooms or okra (slitted). Leave it aside for 15-20mins.
Now arrange the pieces on skewers.
Roll them in a mixture of semolina and rice flour.
Shallow fry on tava. Serve hot.
Serves : 2-3
Preparation time: 30mins