As I mentioned here, we could not find the English name for Neerpanas. So I am using the Konkani name as it is. Read more about Neerpanas here.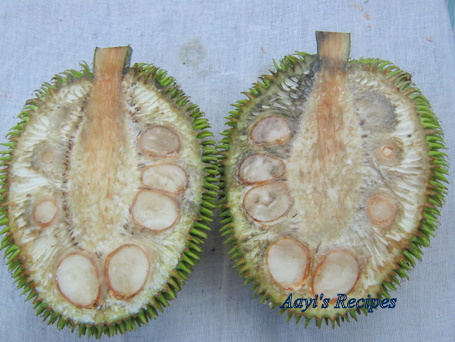 We have a Neerpanasa kadgi(A tender jackfruit is called kadgi. This applies to all the different varieties of jackfruit) tree in our garden. It gives fruits twice a year. The tree looks like a bread fruit tree. Both kadgis are different in their outlook. This variety is not known to many people.
We like this Neerpanas as it has got some different taste. Moreover it does not produce gas in the digestive track like some other varieties of jackfruit. Neerpanasa kadgi cannot be used for randayi(a sidedish with coconut base) or phodi(tava fries) when it is fully mature and ripe. It becomes too soft.
When it is very tender, the seeds can also be used in the dish as they are. When they are little mature, the seeds get a little hard cover. So you need to cut them open and discard the outer hard skin.
Please note again, Neerpanas and paachpanas (second picture) are not same. We don't know if paachpanas can be used for this dish. If you cannot find Neerpanas, it can be replaced by tender jackfruit.
Ingredients:
2 cup Neerpanasa kadgi pieces
3/4 cup grated coconut
1/2 cup toordal or vatana
4-5 red chillies
5-6 teppal
2-3 piece kokum
A pinch turmeric
Salt
Method:
Apply some oil to palms and the knife to avoid the sticky gum. Cut the kadgi into two pieces. Discard the green outer skin and the white part in the center. If the seeds are hard, peel them. Add the pieces to water. Discard the water (water turns black sometimes due to the gum).
Cook toordal( or vatana ) and kadgi pieces separately in a cooker.

Grind coconut,red chillies and turmeric. Add the masala to already cooked kadgi and dal. (or vatana). Heat it and add crushed teppal, kokum pieces and salt. Cook for about 3 minutes. Serve as a side dish with hot rice or chapatis.
Serves : 4
Preparation time : 30mins