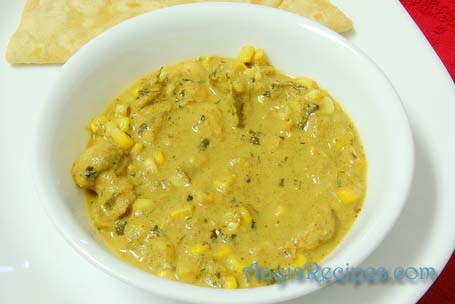 This recipe is from my friend Aruna. She sent me this after reading a request from one of my readers. It was some 8 months ago. I was a bit skeptic to try it out for so long. Somehow I do not like the mushrooms that we get here. There are so many varieties but still I am not able to find the one which we like the most. We are used to the taste of seasonal, naturally grown mushrooms available at our native. So I had stopped buying them here and kept on postponing cooking this dish. But it never slipped out of my mind because of the reviews Aruna gave me. She had told it was a super hit among her circle of friends.
Aruna said, this is also called Khumb Mutter in Mumbai restaurants and has mushrooms and peas in it. Then she tried a dish called Mushroom taka tak in a San Fransisco restaurant. So based on these two, she cooked this dish and it was loved by all. She also sent me this picture to show me how it is supposed to look like. Thanks Aruna for all the trouble you took to find this recipe for me.
It turned out to be an instant hit at my home. I tried it with fresh looking 'baby button mushrooms' which I got hold at Target. These are the best mushrooms I have found in a long time or rather I should say, the ones which we loved the most. They didn't leave any water while cooking (normal button mushrooms leave loads of water which smells weird to me). I was thinking the quantity was more for two people but this was gone in one go. I think this is a very good dish to make at any parties as it is easy to make and very delicious.
Ingredients:
1 cup mushrooms
1 cup corn or green peas
3/4 cup onion
2 green chilies
1/2 tea spn chopped garlic
1/2 tea spn chopped ginger
1″ cinnamon
2 bay leaves
2 cloves
3 black peppercorns
1 black cardamom
1 tea spn kasoori methi
A pinch turmeric
1 tea spn garam masala
1 cup milk
Butter
Salt
Method:
Grind onion, ginger, garlic and green chilies to a paste.
Heat butter in a pan and add cinnamon, bay leaves, cloves, peppercorns, black cardamom, paste till it forms a lump. When the paste starts changing color, add about 2 tbl spns milk. Keep frying and keep adding the milk about 2 times, 2 tbl spn at a time. Now add the garam masala and turmeric. Fry for a min. Now pour remaining milk and bring it to boil. Add salt, kasoori methi.
In another pan, heat butter and add corn and mushrooms. Sauté for few minutes. Add these to the cooked gravy and let it cook for about 5 mins.
Serve hot with chapathis, rotis, or naans.
Serves: 2-3
Preparation time : 20mins
PS: Do not substitute butter with oil, because butter imparts a greater flavor. You could use 2% reduced fat milk for a low calorie version.