Mixed vegetable curry or 'gajbaje' (randayi means a side dish with coconut masala) is one of the most popular dishes among Konkanis. It is usually prepared using vegetables like okra, ridge gourd and cucumber (Usually a special kind of cucumber called as magge or moggem in Konkani is used for this dish. Cucumber can be used instead of magge since both taste almost same. Unlike cucumber, magge cannot be eaten raw). There are two types of 'Gajbaje' popular among Konkanis. Among the fish eating Konkanis (Living in North Kanara district) and Marathis of Belgaum (I am referring to my pachi, mom's sister, who is a deshpande), this dish is prepared with teppal/tirphal and toor daal. Among the vegetarian Konkanis(living in South Kanara), a lot more vegetables are used for this dish and prepared only with coconut (Vaishali has mentioned the recipe here. I did not know about this version till Aruna sent me the recipe. Then I saw the same recipe in Vaishali's blog).
At my native, this dish is a must in most of the festivals and weddings. Usually we use the three vegetables mentioned above because most of the people grow these vegetables at home and are easily available in market also. I saw in my pachi's house, they use lot more vegetables and I loved the corn cob used in the dish(At my native, corn is not available easily and it is not use for this dish). This dish is a must for Ganapathi pooja at their home.
When I read about Independence Day parade, I asked my brother to give me a suggestion for the event. His idea was superb, but a lot more difficult to achieve with my skills. So I simplified his idea and thought of sending this dish to the event. This is one of my all time favorite side dishes and the most famous side dishes I could think of, only after mooga randayi. So this would be an entry from Konkan to the event. (Indira, I hope you accept this. I have tried my best to take good pictures with the limited resources I have).
Since this is an entry for Independence day, here is what I thought about the ingredients. The picture speaks itself.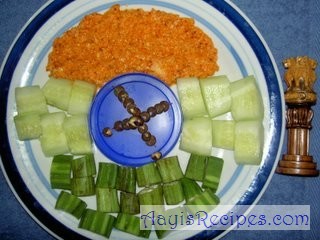 Ingredients:
Coconut ¾ cup
Toor daal ½ cup
Turmeric a pinch
Vegetables (like cucumber, ridge gourd, corn, okra) 1 and half cups
Teppal/tirphal 3-4
Kokum pieces 2-3
Red chilies 4-5
Salt
If kokum is not available, add tamarind. Teppal/tirphal(also called as sichuan pepper) can be ignored since it is not available here in US. But this gives a different taste to the dish.
Method:
Cook toor daal with a pinch of turmeric.
Cook the vegetables in enough water (take care not to overcook the vegetables, do not cook them along with daal, they cook faster and daal remains hard if both are mixed).
Grind coconut and chilies to a very smooth paste.
Add masala and vegetables to the cooked daal and boil. Add the kokum pieces. Crush the teppal/tirphal in one table spoon water and add it to the curry. Cook till the masala thickens a bit (This is a watery side dish, so do not make it too dry).
Serve with rice and daali thoy.
Serves : 4
Preparation time : 30mins