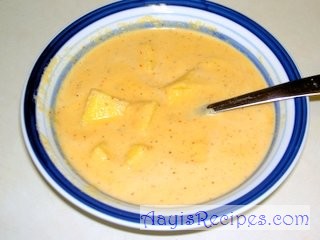 Few days back, one of my readers had asked about the famous "ambe-ananas sasam". It took me some time to find good ripe mangoes to prepare this dish.
Like Airaawat, this is one more dish usually found in any Konkani functions (with mangoes during the mango season, otherwise only with pineapple). Go to any house, you will find one or the other dish with mango.
Mango is one friut I loved from my childhood, I have lot of memories with mango. We have about 20 mango trees in our garden. One of them is fondly named as Shilpa's tree by my parents :).
Ingredients:
Mango, pineapple pieces(one of them can be omitted) 1/2 cup
Coconut 1 cup
Mustard seeds 1/4 tea spn
Red chillies 4-5
Tamarind extract 1/4 tea spn
Jaggery/sugar 1 and 1/2 tea spn
Salt
Method:
Grind coconut, mustard, chillies, tamarind, jaggery and salt adding very little water (need not be ground into a very smooth paste). Add the mango, pineapple pieces. Mix well.
Serve as a side dish with rice.
Serves : 2
Preparation time 10min