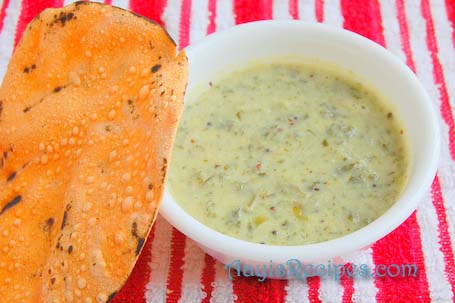 All Konkanis are familiar with Vali bhajji (Malabar spinach or basale soppu in Kannada). Many of us grow it in our backyard so that we can use it whenever we want. It is very common to see a wooden structure called mantov on which bhajji grows abundantly. These days we get them abundantly in market or brought to our door steps by vegetable sellers.
Following picture is from our backyard. It is a small plant right now, but will grow nicely in the months to come.
The most popular dishes with this are vali bhajji randayi prepared in 3 different varieties – with garlic, with green papaya, with prawns etc.
My grandmother used to prepare this sasam frequently at my native at Sirsi.  It is an easy and quick side dish that goes well with chapathis or rice.
Ingredients:
1 cup chopped vali bhajji leaves
3/4 cup coconut
3-4 green chillies
1/4 tea spn tamarind
A pinch asafoetida
1 tea spn mustard seeds
Salt
Oil
Method:
Heat a little oil and put mustard seeds. When they start popping, put asafoetida in it. Add finely chopped vali leaves and water (1/2 cup), cover and cook. Cool to room temperature. Keep it aside.
Grind coconut, green chillies, tamarind and salt with a little water to the chutney consistency. Add the cooked vali to this chutney and grind for awhile (2-3 rounds). Leaves should be a bit mashed but should not become a paste. Serve with chapathi or as a side dish with rice.
Serves : 4-5
Preparation time : 15mins