Konkanis use Kulith (horsegram) very frequently in cooking especially in cold season. It is supposed be to be garam – i.e. warming effects on body. We normally don't use it in summer because of warming effects. This saru – a thin gravy of soup like consistency, is very common during these days. A generous quantity of ghee is also added to the saru as ghee is also supposed to have garam effect. The water from cooking horsegram is used to make this saru and the cooked horsegram is used to make stir fry or kosambaris(salad).
I usually make two types of sarus. One with the coconut and this is the second version.
My grandmother used to tell us about a unique way of making this saru. Horse gram was used to feed the cattle. So they used to cook horse gram in large quantities. Instead of discarding such a huge amount of this very nutritious water, they would boil the water till it reduced to a small quantity and save it for using it in the days when this gram was not available. This thickened horse gram water was called "Kulitha kattu". When needed, this was diluted in water and the saru was prepared. I have never tried this here as I cook the horse gram whenever required.
Horsegram is good for arthritis (Ganti duuk) pain. One of my relatives who had arthritis was taking some homeopathic medication and the doctor had suggested eating horse gram.
Horsegram changes color as it becomes old. When it is very fresh, it has a lighter color, and as time passes, it becomes very dark.
Cooking horsegram :
Wash 1 cup horse gram in water. Add about 3 cups of water and cook in pressure cooker. (Soaking the horse gram for few hours helps in cooking faster). It normally takes a very long time compared to any other pulses/grams. About 5-6 whistles.
Separate water and cooked horse gram. Save both.

Ingredients (Saru) :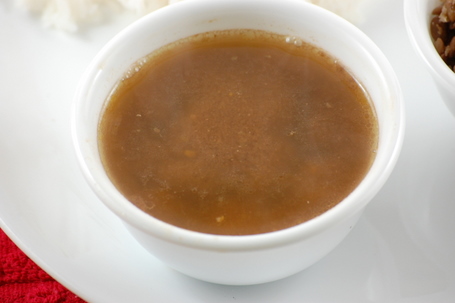 2 cups horse gram water
2 green chillies
1/4 cup chopped onion
1 tea spn ghee
1 tea spn chopped garlic
1 tbl spn cooked horse gram(optional)
Salt
Method:
Add onion, salt and green chillies to the horse gram water and bring it to boil.
Grind 1 tbl spoon of cooked horse gram and add it to the boiling mixture. Cook till the water reduces a bit and gets a bit thicker. Take off heat.
Heat ghee and add garlic. When the garlic turns brownish, add this seasoning to the saru.
Ingredients (Kosambari):


1 cup cooked horse gram
2 tbl spn fresh/frozen coconut
3 green chillies
A pinch asafoetida
1-2 tea spn coconut oil
Salt
Method:
Slightly crush the cooked horse gram (do not make a paste).
Dilute asafoetida in 1 tea spn water. Add this to coconut. Add green chillies, salt and mix well with your fingers (chirduche).
Now add the cooked horse gram and mix well. Add the coconut oil and mix.
Serves : 3-4
Preparation time : 40mins