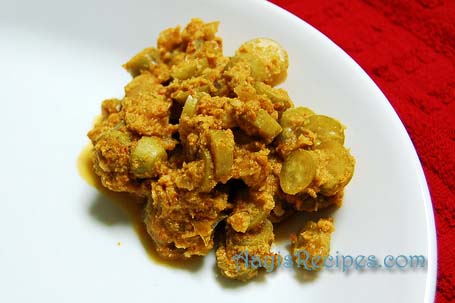 Buthi is a Konkani dish which is unknown to me. I had heard about this before, but didn't know how it is supposed to look or taste. When I saw this recipe in Kannada magazine in Konkani GSB food section, I was really surprised. Then I remembered Vee's almbe buthi recipe. Since I love ivy gourds, I thought of giving this dish a try.
I found a lot of different variations to buthi in different places. Some had ginger, some didn't include coriander seeds, some had used fried coriander seeds. I decided to try the easiest of all (just coriander seeds).
Tendli(Ivy gourd) buthi is a very simple dish with few ingredients. Though the recipe looks extremely simple, this dish and daali thoy together can make an awesome meal. The ivy gourds give a unique flavor to the dish. I didn't cook the gourds completely, so the slightly crunchy pieces of gourd in a spicy coconut sauce was a real treat.
Ingredients:
1 cup ivy gourds(tendli) chopped into round pieces
3/4 cup fresh/frozen coconut
4-5 red chilies
1/2 tea spn coriander seeds
1/4 tea spn tamarind extract or 1-2 pieces of normal tamarind
1/2 cup onion
Coconut oil
Salt
Method:
Grind together coconut, coriander seeds, chilies, tamarind into a coarse paste with little water. Do not add too much water.
Heat a little oil and fry onion till they are brownish. Now add ivy gourds and half cup water. Cook till the gourds are almost done. Add salt, ground paste and cook for 4-5mins.
Serve hot.
Serves : 2-3
Preparation time : 15mins